5 Tips for Using Servo Drives in Exoskeleton Robots
January 30, 2023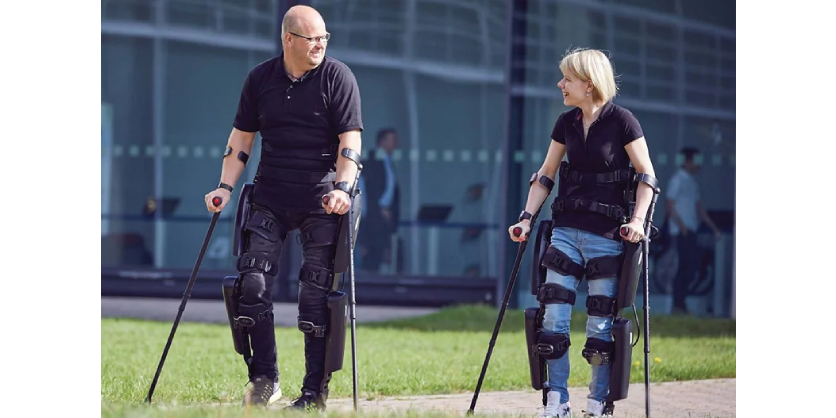 Exoskeleton robots are wearable augmentative devices that enhance the physical capabilities of their human wearers. Offering the ability to combine human intelligence and control with the strength and durability of a robot, they can be used for gait rehabilitation or locomotion assistance, offering many applications in industry, medicine, and more.1
However, developing practical and economically viable exoskeleton robots has proven to be an extreme technical challenge. Despite being actively researched since the 1990s, only now – with the aid of modern technology – are the first practical applications of robotic exoskeletons starting to emerge.
Of all the components that go into an exoskeleton robot, servo drives are perhaps the most significant: If motors are the muscles of a powered exoskeleton, then servo drives are the brain. As such, the servo drive is the electronic component responsible for an application's motion. A servo drive is fed a command signal for position, velocity, or current by means of a feedback loop. It then adjusts the voltage, and current applied to the servomotor accordingly. The precision, power, and efficiency of a robotics system are highly dependable on this subcircuit.
1. Reliability and Accuracy
Exoskeleton robots are one of the most demanding servo-drive applications imaginable. Powered exoskeletons must respond to many often-subtle physiological cues from their wearers/operators, and servo drives are responsible for interpreting and modulating these signals in response to data from multiple position sensors. On top of this, accurate and reliable performance is of the highest importance: since the operator wears the machine, any servomechanism malfunction could be extremely dangerous.
For this reason, the servo drives integrated into exoskeleton robots must be extremely fast, robust, and precise while complying with the highest safety standards.
2. Low Power Consumption
The primary function of exoskeleton robots – whether in defense or medical applications – is to improve the wearer's mobility. Most applications (except for a few specific industrial uses) must rely on portable power sources.
Exoskeleton robots need to be mobile and operate for as long as possible. This means that power efficiency is a top priority – which applies as much to servo drives as it does to motors. Using a servo drive with low standby power consumption and high efficiency during use is essential to prolong an exoskeleton's autonomy and maximize its performance.
3. Minimal Heat Generation
Exoskeleton robots are highly dynamic systems that are, ideally, able to operate for long periods. This means that heat generation can be a problem.
An exoskeleton's electronics will inevitably heat up, meaning the device itself will tend to increase its temperatures. Being wearable devices, any exoskeleton's temperature should be, by design, kept as low as possible. That is both to reduce energy consumption, but most importantly, for the user's comfort and safety. 
Any component in such an application should be chosen with that in mind. Using an efficient servo drive which keeps cool during heavy operation is vital: it's one thing for the servo drive on a production-line robot to become hot over extended use, and quite another for the same to occur in the elbow joint of a biomedical exoskeleton.
4. Small Form-Factor
In most applications, exoskeleton robots are designed to operate in human environments. This means they need to be able to fit through doorways, navigate warehouses and operate in crowded spaces.
Reducing bulkiness is a significant challenge in developing powered exoskeletons – fitting the requisite motors, servo drives, and sensors within a compact package is no mean feat. However, recent developments in motion control technology – including compact servo drives – mean that this is much more viable than before. In a system where the size of every component is critical, choosing servo drives which are compact and easily integrated into joints is critical.
5. Cost and Time
Cost is one of the critical limiting factors in the practical application of exoskeleton robots. While this is especially true in healthcare applications such as exoskeleton-based rehabilitation systems; it is nonetheless a significant factor for more well-funded industrial and defense applications too.2,3
Choosing the right servo drive for the job – even if this means using a custom-developed servo drive – is the only way to ensure long-term reliability and, ultimately, low cost of ownership. Off-the-shelf servo drives may be inexpensive, but in a system as complex and specialized as a powered exoskeleton, this can often be a false economy. 
Celera Motion are world-leaders in developing servo drives, direct drive motors, and other motion control components for robotic systems. Get in touch with us today to find out more.
Related Product
Celera Motion, an award-winning business unit of Novanta Inc., recently announced it was expanding its innovative direct drive motor platform, the Omni+™ Series. Powerful and efficient, the Omni+ Series is designed for optimal system integration, with a range of axial lengths and winding options. Known for exceling in motion smoothness and torque density, the pre-engineered frameless motor kit series has now been expanded to include a new size: the Omni+ 100 mm.