NIMBUS4FLEX: Your Flex Wire Solution line enhanced with addition of NIMBUS Motors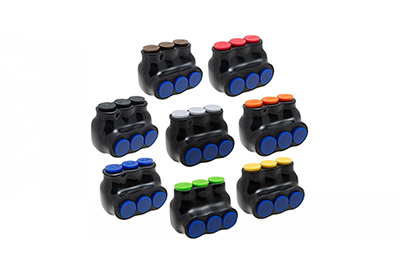 April 29, 2019
The NIMBUS 4FLEX line of pre-insulated connectors has been enhanced to include NIMBUS Motors. NIMBUS Motors is available to order as single catalog numbers or as pre-configured kits for specific motor applications.
With NIMBUS Motors, users can mix any class of copper and/or aluminum conductor without concern for expansion, contraction, and galvanic corrosion. The screw design improves vibration resistance, compresses the conductor without damaging it and eliminates the need for ferrules which makes it reusable.
The kits are designed to simplify Megger testing for motors. The product offering features color-coded screw caps with embossed lettering to simplify motor hook-up. In addition, the connectors are UL-listed, CSA-certified, RoHS-compliant and dual-rated for copper or aluminum conductor.
The Nimbus offering includes in-line, multi-tap, single-, double-, or multi-side entry. They are mountable and high density 2X for code and flex conductors. A multitude of configurations afford the installer the ability to select the right connector for the job. Mix any conductor class and material via staggered ports with NIMBUS4FLEX.
Go HERE for more information