New Atom Box Module has been added to the PS5000 Series lineup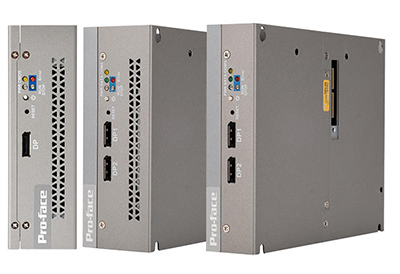 April 17, 2019
Pro-face America announces the release of the new PS5001B industrial PC. This new iPC is a welcome addition to the PS5000 series, and expands the family with three new node box options.
This NEW box module includes an Intel Atom CPU, and can be easily mounted to any Pro-face PS5000 series display providing high-performance and durability for multiple iPC applications. The PS5001B Atom Box unit offers M.2 and eMMC storage allowing for a more efficient, and cost-effective solution.
Use the PS5001B Atom box as a highly reliable open platform PC-based control system to break free of the speed and performance limitations of your PLC. Expand your data management and smart manufacturing options by upgrading to the accelerated version of BLUE Open Studio and Node-Red. The PS5000 series offers Class 1 Div 2 certification, IP66 protection and fan-less functionality to create a high quality, durable industrial PC suitable for multiple environments and applications.
Go HERE for more infotmation