Powerful, Precise Pick-and-Pack Solution Significantly Cuts Changeover Time – Mitsubishi Electric Automation, Inc.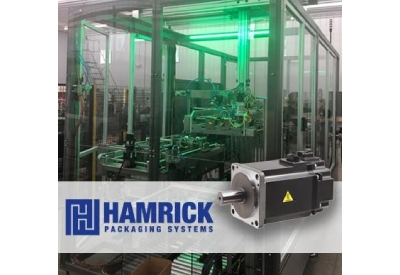 March 18, 2022
Mitsubishi Electric Automation, Inc., helped one manufacturer boost throughput with small, fast servo motors and flexible data communications. The latest customer success story from Mitsubishi Electric reveals the vendor's vast experience with technology that delivers extreme speed and precision. For Hamrick Manufacturing & Service, Inc., the packaging of delicate protein supplements into bottles requires a high level of control. When the company wanted to design an automated pick-and-pack system, it needed powerful servo motors that could work with a soft touch and fit into a very confined space.
As a longtime Mitsubishi Electric Automation customer, Hamrick engineers were happy to learn that Mitsubishi Electric HG Series servo motors offered nearly double the speed needed in such a small size. The manufacturer then rounded out the solution with Mitsubishi Electric FR-E800 VFDs and EtherNet/IP amplifier.
The new system delivered the precise control and soft touch Hamrick needed for the delicate pick-and-pack operation—and accelerated changeovers from 30 minutes to about 40 seconds. Along with the operational success, Hamrick leaders were thrilled with the personal ser[1]vice and support the Mitsubishi Electric Automation team provided throughout the installation and afterwards.
Controls Engineering Manager Jeff Eckstein said, "The Mitsubishi Electric products themselves are good, really good, but it's the relationship with Mitsubishi Electric … that I think made the real difference. We don't have a ton of employees, so the Mitsubishi Electric team's willingness and ability to help us in the middle of a crisis was key."
Learn more about the case study here