ABB Power Density Challenge
Excel in Power Density and Energy Management for Integrated Motor/Drive
July 12, 2023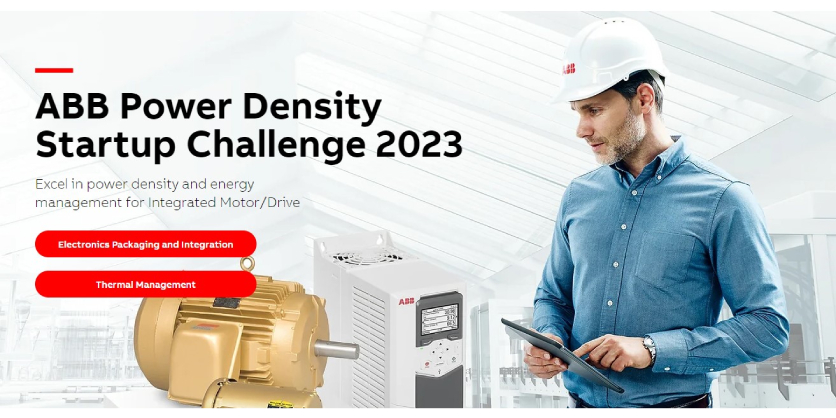 Seamless integration of motors and drives for a more efficient future with power density challenge
ABB is seeking innovative and forward-thinking individuals to join them in pushing the boundaries of drives and motors with their power density challenge. If you are interested in collaborating with them to develop an integrated solution that optimizes resources and combines motors and drives into a single solution, then this challenge is perfect for you. This is an incredible opportunity to work closely with ABB's experts to create seamless technology integration for a more efficient future. Apply now to get started.
Winner award: collaboration project worth up to US$30,000
Teaming up with ABB Experts for 10 days

ABB MOTION DRIVE PRODUCTS CHALLENGE
Innovative solutions for Electronics Packaging and Integration
Presented by Harri Mustonen, Head of Business Development & Strategy
Innovative packaging and integration solutions
Revolutionizing Integrated Motor and Variable Frequency Drive Technology!
Are you passionate about Electronics Packaging and Integration? If so, ABB has an exciting opportunity for you to showcase your innovative ideas and make a significant impact in the world of motor and Variable Frequency Drive (VFD) technology. Welcome to the Power Density Challenge, where ABB invites you to reimagine the integration of VFD electronics into industrial motors while preserving or enhancing performance factors.
With a rich history of over 45 years in designing and manufacturing VFDs, the ABB Drive Products Division has established itself as a leader in innovation. By controlling the speed and torque of motors, we not only benefit the environment but also provide customers with reduced energy consumption of up to 25% or more, along with extended equipment lifespan through minimized wear and tear. Delivering these advantages to customers and making an impact on the environment is the driving force behind this passion. Now, ABB aspires to take it a step further by integrating VFD electronics directly into the motor, making all these benefits an integral part of the machine.
To achieve seamless integration of the drive into the motor…
…we need to explore disruptive approaches to packaging and integrating electronics without compromising their suitability for the industrial environment or their ability to meet high-reliability requirements (including temperature, vibration, and electromagnetic compatibility). Overcoming this challenge requires delving into higher efficiency and temperature-capable power electronics, reducing thermal interfaces, increasing electronics integration, ensuring the reliability of new devices, and implementing advanced thermal management methods. Success can come from individual solutions to these challenges, or by combining several solutions in a brilliant way.
ABB invites you to join them in innovating solutions for this integration challenge. Take part in their Power Density challenge on this website and embark on an exciting journey to transform the future of motor and VFD technology.
Awards for the winner:
Up to $30,000 for a collaboration with ABB Motion Drive Products to develop a Minimum Viable Product (MVP) that can be productized and offered to ABB customers
6 month free SynerLeap Special Membership, ABB's startup accelerator, which will boost your growth and visibility across ABB, our partners and customers (Value $10'000)
Collaborate with ABB experts
You will receive expert support from ABB during the 10 days of competition
ABB MOTION NEMA MOTORS CHALLENGE
Innovative solutions for Thermal Management to achieve power density
Presented by Michael Offik, Director of Packaged Solutions
Re-thinking thermal management in electric motors and drives to reduce overall size while maintaining industrial performance (durability, vibration, electromagnetics) and market competitiveness.
The ABB NEMA motors division is the #1 market leader in low voltage NEMA electric motors globally and has over 100 years of experience in designing, manufacturing and marketing industrial electric motors. Their motors are used to power manufacturing equipment and processes around the world. Almost half of the world's electricity is connected to electric motors, and packaging motors with drives can reduce energy consumption by up to 30%, providing a significant benefit for our customers and the environment. Their goal is to integrate the drive's electronics seamlessly into the motor, making it easy for customers to adopt an energy-saving solution.​
​Better thermal management for integrated solutions is key.
Thermal management is a limiting factor in integrating motors and drives. ABB is looking for new ways to remove the thermal losses of a motor to aid in increasing power density while successfully packaging and integrating the drive and motor. The solution needs to operate in an industrial environment with varying temperature, vibration and other harsh conditions (humid, dusty, etc.). To overcome the challenge, they hope to receive a sustainable, simple and cost-effective solution that can be applied across a wide range of product ratings, applications and industries.
Please join Michael Offik and his colleagues at ABB to innovate solutions for this integration.
Start by applying to their Power Density startup challenge today.
Awards for the winner:
Up to $30,000 for a collaboration with ABB Motion NEMA Motors to develop a Minimum Viable Product (MVP) that can be productized and offered to ABB customers
6 month free SynerLeap Special Membership, ABB's startup accelerator, which will boost your growth and visibility across ABB, our partners and customers (Value $10'000)
Collaborate with ABB experts
You will receive expert support from ABB during the 10 days of competition
More Information
Related Story
ABB is accelerating its growth strategy in the United States by investing approximately $170 million and creating highly skilled jobs in manufacturing, innovation and distribution operations. ABB is committed to growing in the US by investing in its electrification and automation businesses that meet increased demand from industry-leading customers, while supporting the clean energy transition and the trend towards reshoring of production. This commitment is highlighted by the pouring of the concrete foundations for a greenfield drives and services facility in New Berlin, Wisconsin. The US is ABB's largest market, comprising 24 percent of the company's annual revenue.1