Plan Ahead to Avoid Delays and Improve Uptime with the Danfoss DrivePro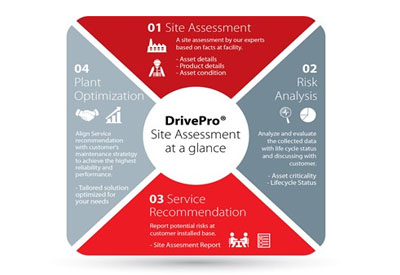 August 17, 2020
Are you aware of the condition and life-cycle phase of your assets?
With a DrivePro® Site Assessment, our well trained experts will assess your facility's VFD installed base and review your assets based on visual conditions, and evaluate the life-cycle stage of your individual assets.
Site assessments may be done virtually using digital tools to support social distancing, or in person at your facility depending upon your specific requirements. Based on this assessment our experts will provide a tailored service solution which will enable you to optimize uptime and reduce maintenance costs.
Site Assessments are ideal for essential industries such as:
Hospitals

Water and wastewater

Food and beverage

Pharmaceuticals

Data Centers
You may qualify for a FREE DrivePro® site assessment
Danfoss remains open and is doing our part to support essential industry by providing free DrivePro® Site Assessments to qualifying businesses. By remaining open we recognize that you and your employees are exposed to additional risk, and now more than ever, keeping your business up and running is our priority.
To see if you qualify for a free assessment, please click here.
Are you able to perform cost effective maintenance on your variable frequency drives?
Stay calm. You're covered.
All DrivePro® Life Cycle Services offer the comfort of knowing Danfoss Drives takes responsibility for supporting its products well into the future with the following features:
Industry's longest coverage, up to ten years
24/7 factory technical support
Certified factory and local technicians
Original equipment replacement parts
Exchange – QuickShip drives for urgent needs
Retrofit and preventive maintenance programs
Learn more about DrivePro Life Cycle services here.