Festo opens first global development centre, in Boston, for life science market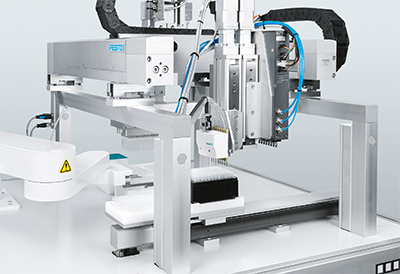 December 13, 2018
Recognizing that North America is at the forefront of the global life sciences market, Festo made Boston the site for its first development centre for innovations for that sector. The newly opened Boston Technical Engineering Centre (TEC) will develop advanced products by partnering with renowned medical and laboratory equipment manufacturers, many of which are located in and around that city. TEC Boston is focussing on developing components and systems for performing liquid handling functions such as pipetting, aspiration and dispensing. The marketplace wants process technology with high throughput and reproducible and accurate results – plus, of course, an attractive price tag.
Festo is applying its great expertise in factory and process automation to this fast growing field of laboratory automation. For example, they have launched the unique, compact EHMD rotary gripper module, which can grip and rotate sample vials and easily open even the smallest sample vials up to 15 millilitres in volume. The company also has developed the VTOE dispense head especially for handling liquids. It meets the most stringent requirements of sample analysis: high precision even with the smallest dosing volumes as well as a high degree of reliability and reproducibility. With up to eight independent dosing channels, the VTOE dispense head enables a wide range of applications.
Festo in laboratory automation and medical technology
Festo entered the field of medical laboratory automation in 2004, and it has been so strong a market, with annual double-digit growth, that in 2015 the company made it a separate division to facilitate further expansion. In laboratory automation, the focus is on the development of intelligent, tested products and subsystems for the automation of liquid and sample handling. In medical technology, Festo develops products and subsystems for medical devices, focussing on the efficient regulation and control of process and medical gases.