Cost-Saving Hybrid Panelboards Now Approved for International Hazardous Regions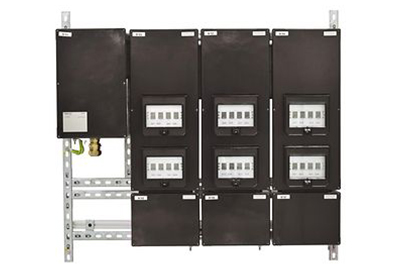 November 29, 2019
Emerson announced recently that it has gained International Electrotechnical Commission Explosive (IECEx) and Atmosphere Explosible (ATEX) certifications for use of its Appleton PlexPower Fiber Panel in hazardous locations in Europe and multiple international regions including the Middle East, Africa and Asia Pacific.
The new hybrid panelboard is the first to bring hybrid power and data capabilities into industries that operate in highly explosive environments requiring IECEx and ATEX certifications. This includes the oil and gas, chemical and pharmaceutical sectors. Combined with a National Electrical Code (NEC) certified version of the panel, today's launch of the Appleton PlexPower IEC Fiber Panel makes this product line the first simplified and global solution for power and data distribution throughout hazardous locations for manufacturers.
Traditionally, power distribution technology and instrument/process monitoring have been routed from two separate enclosures located in a "safe" control room outside the hazardous location. High material and labor costs, system complexity, and multiple points-of-failure along long cable runs have proven significant challenges to this design, especially for companies transitioning to the Industrial Internet of Things (IIoT).
The Appleton PlexPower IEC Fiber Panel meets these challenges by serving as a single point of control for both data and power installed within the hazardous area, rather than outside it, bringing cables from up to 24 field junction boxes throughout the facility back to a central location. As a result, users save up to 57% on installation, commissioning and maintenance costs through the elimination of long dedicated cable runs, cable trays, conduit and other support structure. In addition, the installation process is safer, since overall construction scope is reduced and conduit seals are not needed.
Cost-saving benefits are also found in the Appleton PlexPower IEC Fiber Panel's use of circuit breaker modules that provide explosion-proof protection for standard off-the-shelf breakers, doing away with the need for a heavy-cast enclosure. Breakers can be easily replaced, upgraded or added in the field with no bolted cover to remove, no need for sealing or rewiring, and no danger of compromising flame path integrity.
Organizations can simplify their transition to the IIoT with the Appleton PlexPower IEC Fiber Panel. The hybrid panelboard helps connect field devices and smart technology, such as IP cameras, routers and pressure transmitters. Belden MIPP fiber splice boxes minimize installation time for fiber patching and enable hassle-free access during routine maintenance.
The Appleton PlexPower IEC Fiber Panel is constructed of fiber-reinforced plastic (FRP) in pre-engineered modular units to lower the time needed for commissioning and installation. Its modular design allows multiple panels to be coupled together horizontally or vertically, offering practically unlimited circuit configurations while adapting to the available space. Although lighter in weight than traditional cast enclosures, the FRP withstands brutal conditions, such as aboard open sea drilling platforms or the harsh environment of petroleum refineries.
The Appleton PlexPower IEC Fiber Panel is available with multiple design options, giving end-users flexibility and convenience in configuration. In addition to FRP, the enclosure is available in 316L stainless steel.