Cap-Op Energy and Spartan Controls Enable Profitable Methane Abatement for Nine Major Oil and Gas Producers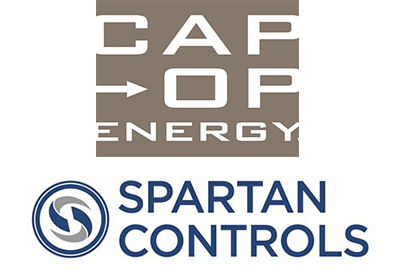 March 18, 2019
Cap-Op Energy and Spartan Controls are pleased to announce that their sustainability program has helped nine major oil and gas producers achieve significant emission reductions resulting in carbon credits.
In 2018, Cap-Op Energy verified that over 130,000 t CO2e in emission reductions had resulted from the installation of low-bleed Emerson Fisher control instruments. The total annualized emission reductions from installed projects are expected to exceed 600,000 t CO2e/year. Combining Cap-Op's carbon monetization platform with the latest Fisher products enabled simple paybacks in months, as opposed to years, while proactively eliminating future methane compliance costs.
"Our collaboration with Spartan Controls is of foundational importance to methane abatement; together, we are providing the hardware and software technologies to drive the largest methane reduction program in Western Canada," highlights Cooper Robinson, Managing Director at Cap-Op Energy. "This scale enables us to make sustainability profitable for our mutual customers."
The nine participating oil and gas producers achieved emission reductions by switching out high-bleed pneumatic instruments to low-bleed Fisher products including the Fisher C1 and i2P-100, generating carbon credits using Cap-Op's award-winning Distributed Energy Efficiency Project Platform (DEEPP). Combined with Cap-Op's Engine Fuel Management offsets generated from Spartan Controls' REMVue AFR technology, the DEEPP has now surpassed 400,000 tCO2e since 2011.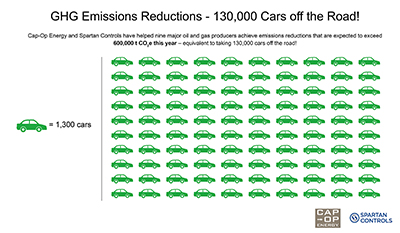 "We are pleased to collaborate with Cap-Op Energy as part of our commitment to environmental leadership," said Brian Van Vliet, Environmental Solutions Leader at Spartan Controls. "Cap-Op and Spartan have been collaborating since 2011 and we look forward to continuing our work to help our customers achieve environmental compliance with ROI."
In January 2017, the Alberta Government approved the Quantification Protocol for Greenhouse Gas Emission Reductions from Pneumatic Devices (V2) with significant technical contributions from both Cap-Op and Spartan Controls. The Protocol allows oil and gas operators to generate carbon offsets from pneumatic instrument conversions, which will become a regulated activity by 2023 under Alberta's Methane Regulations. With the opportunity for returns from these projects now proven, many oil and gas producers are undertaking large pneumatic replacement campaigns across Alberta.