Bridging the Skills Gap with MAZATROL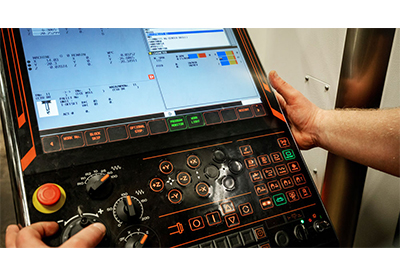 April 11, 2019
The world's population is aging. In 1994, adults at or above 55 years of age were just 12 percent of the U.S. workforce; by 2024, that's expected to more than double. By the 2030s, retirees will outnumber children and teens below 18 for the first time in America, a fact that holds true across much of the developed world. And when those workers retire, they take their decades of experience with them. And according to a 2018 study by Deloitte and The Manufacturing Institute, by 2028, those retiring workers will have left behind 2.4 million unfilled manufacturing jobs at a cost to the US economy of $2.5 trillion.
That's why Mazak has spent decades perfecting its human-machine interfaces (HMI), seeking at every opportunity to simplify the operation of our machines and streamline the learning process for new operators. This effort has included everything from new machine controls to the Progressive Learning program we offer at Technology and Technical Centers across North America. Perhaps the most important element of our mission to fill the skills gap, however, is MAZATROL, the industry's leading conversational programming language for CNC machining.
In previous years, middle and high school shop classes were part of the core curriculum, classes in which students gained the skills they needed to thrive in a manufacturing-dominated economy. But today's manufacturing professionals typically come from backgrounds in science, technology, engineering and math – the so-called "STEM" fields – and have the necessary training to take on industry or job-specific continuing education.
For machine operators and programmers, this typically includes learning EIA/ISO programming and one of several CAD/CAM systems, along with the information one needs to apply it successfully: a thorough understanding of metalcutting physics, materials science and tooling. Of course, STEM graduates with these qualifications are some of the most in-demand employees in the world, and as schools have dropped their machining courses, manufacturers are often forced to teach part programming and CNC machine operation on the job, a time-consuming and expensive approach given the tight production schedules under which most shops operate.
Mazak has a solution for this challenge in the form of a 40-year-old programming system. First introduced on the MAZATROL T-1 control equipped on the QUICK TURN 10″, the MAZATROL conversational programming language made its debut in 1981. The development of MAZATROL, a wizard-like programming mode that bypasses the use of G-code, made it possible for inexperienced operators to quickly and easily develop machining programs while out on the shop floor for the first time.
Operators begin the process answering conversationally displayed questions concerning the intended workpiece. These include type of material, O.D./I.D. dimensions and part lengths, among other queries. Then according to the input data, the MAZATROL control automatically calculates intersection coordinates and tool index positioning in addition to optimized cutting conditions and machining processes.
The core advantage of MAZATROL – this conversational approach to part programming – makes it possible for students to quickly gain the skills they need to become fully capable operators. A single five-day class is all that's required for competency, and further coursework is available to help competent operators become master craftspeople – coursework that is free of charge for years after the initial purchase of a Mazak machine.
Now, manufacturers have a simple, effective way to avoid falling prey to the worst effects of the skills gap. An aging workforce only presents a problem when bringing new operators up to speed is cost-prohibitive, and employer-subsidized training can be a significant motivator for young job applicants, many of whom feel unable to gain applicable skills without taking on student loan debt. Today, Mazak offers an alternative by providing access to technological solutions that expedite training and arm young people with the skills they need for the jobs of tomorrow.