ABB launches digital portfolio ABB Ability™ MineOptimize to realize the world's most efficient mines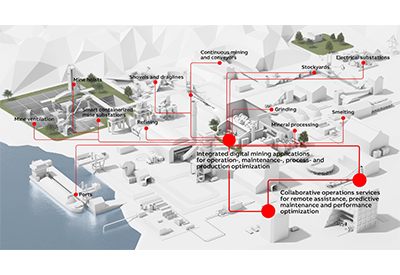 March 04, 2019
ABB Ability MineOptimize is an innovative, comprehensive portfolio of optimized electrification, drives and automation solutions, optimized engineering, digital applications and collaborative services. It combines in-depth sector knowledge, leading edge technology and global and local project management, engineering and digital transformation expertise developed by ABB over 60 years of working with the mining and minerals industry at every stage of the mining cycle.
ABB Ability MineOptimize comprises a suite of digitally connected products, services and solutions, which include state-of-the-art digital technologies for remote services, predictive maintenance tools as well as solutions for upgrades and retrofits. Advanced application libraries, software solutions and digital platforms reduce process complexity, promote safe and secure production and lower lifetime operating costs. By ensuring that the right people have the right information at the right time and from anywhere, ABB Ability MineOptimize digital applications enable mine operators to maximize reliability, safety, productivity and energy efficiency while optimizing planning and visibility across operations and the entire enterprise.
"Optimization of mining and mineral processing operations in order to improve productivity, reduce downtime and protect workforce and the environment is essential and an important factor in being competitive in the market," said Martin Knabenhans, head of product management for ABB's Process Industries business unit. "The ABB Ability MineOptimize portfolio offers open, digitally connected mining applications for unmatched operation, maintenance, process and production performance. As digital transformation partner ABB Ability MineOptimize enables IT/OT integration for some of the world's most cost effective mines."
As a leader in digital industries, ABB will shape the future of mining by rolling out new electrification solutions, digital applications and collaborative services in the innovative ABB Ability MineOptimize portfolio throughout the year to:
Enable sustainable mining by powering the all-electric mine
Re-invent mining automation with the next generation of ABB Ability System 800xA for Process and Power Control
Improve availability through enhanced collaborative services with new predictive cloud based analytics for grinding, hoists and conveyors
The new ABB Ability MineOptimize digital applications complement electrification and automation solutions and dedicated mining systems for hoists, gearless or ring geared mill drives and material handling which can be applied in the building or revamping of a mine. They will also sit alongside collaborative remote assistance, availability, performance and quality services.