A Powerful Drive for Innovation: Nord Drivesystems at Hannover Messe 2019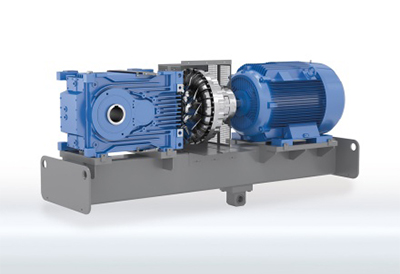 March 18, 2019
NORD DRIVESYSTEMS has been developing, manufacturing and selling both standardized and customized drive technology for more than 50 years and is one of the leading international turnkey suppliers in this segment.
Thanks to its comprehensive product portfolio and outstanding expertise, NORD supplies solutions to more than 100 sectors and is always exploring new dimensions in drive technology. The company is showcasing its innovative prowess at HANNOVER MESSE 2019 with three new products in particular.
NORD has further extended its range of industrial gear units with the new MAXXDRIVE XT series of 2-stage helical-bevel gear units. The newcomers to this range have been specially optimized for applications that require low gear ratios and high performance.
Seven sizes are available for performance ratings from 50 to 1,500 kilowatts, while the output torques of the MAXXDRIVE XT models are between 15 and 75 kilonewton meters with a gear ratio range from 6.3 to 22.4. NORD is also exhibiting new additions to the NORDAC PRO series of control cabinet inverters that have a performance range from 0.25 to 5.5 kilowatts.
The stand-out features of these models include excellent functionality, connectivity and modularity. What's more, as they are available in different device variants, they offer the ideal solutions for a multitude of application requirements. Finally, NORD has also created a mobile commissioning and service solution for all NORD drives in the shape of the NORDCON APP and the corresponding NORDAC ACCESS BT Bluetooth stick. The app provides a dashboard-based visualization that can be used to monitor drives and carry out troubleshooting.