Schunk 6-jaw power lathe chuck – sealed for long maintenance intervals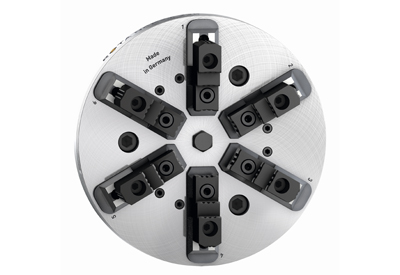 Sept 4, 2019
Special seals at the jaw interface and the piston avoid the grease of the sealed 6-jaw pendulum compensation chuck SCHUNK ROTA NCR-A being washed out and the clamping force gradually lost. Even in the case of low clamping forces, precise functioning of the chuck is ensured, and at the same time the seals ensure than an ingress of chips and dirt into the chuck body is avoided. As a result, process safety increases, and the maintenance intervals extend.This means that the lathe chuck doesn't have to be lubricated or cleaned as often.
Maximum roundness of deformation sensitive parts
The SCHUNK ROTA NCR-A consists of a central chuck piston, carrying three inner pendulums aligned at 120°. Each pendulum is connected to two base jaws. This ensures workpiece centering between six contact points, which can be adjusted in pairs. As the clamping forces are directed towards the chuck, optimum centering is achieved without redundant dimensioning of the workpiece. The chuck with its oscillating jaws perfectly adapts to the workpiece. In case of a conventional jaw clamping, this configuration ensures maximum roundness of the workpieces. Compared to the 3-jaw chuck clamping, this reduces deformation of ring-shaped workpieces by a factor of 10. For finish machining or clamping of pre-turned surfaces, users can clamp the pendulums of the ROTA NCR-A chuck in center position, and all six jaws can move concentrically. The clamping force between the first and second clamping operation can be varied by the pressure reduction on the clamping cylinder. The rigid chuck body and the long jaw guides ensure a high repeat accuracy and precise machining results.
Low height and a broad selection of standard chuck jaws
Due to the flat chuck design, there is plenty of space in your machine room for the workpiece and the machining process. Instead of using costly system jaws or special solutions, standard jaws from the world's largest standard chuck jaw program of SCHUNK can be used on the jaw interface of the ROTA NCR-A. This saves cost and time-consuming special designs, increases flexibility and lowers the set-up effort. The SCHUNK ROTA NCR-A is available in sizes from Ø 190 mm to Ø 1,000 mm with maximum clamping forces between 36 kN and 300 kN, and jaw strokes from 6 mm to 25 mm. The power lathe chucks of sizes 190 to 225 are equipped with tongue and groove; from size 250 it is equipped with a versatile fine serration (1.5 mm x 60° or 1/16" x 90°). From size 630 on, the lathe chuck is prepared for the use on vertical lathes. -Depending on the chuck size, the pendular compensation amounts between ± 1 mm and ± 6 mm, and the maximum speed is 600 RPM to 4,000 RPM.