POSITAL offers more sensors with IP69K environmental protection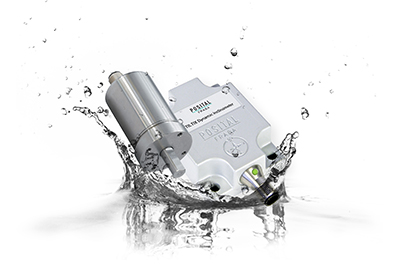 February 18, 2020
POSITAL has expanded its portfolio of rotary encoders and inclinometers (tilt sensors) to include more devices with IP69K level environmental protection. These sensors, which are designed to stand up to repeated exposure to the hot, high-temperature water jets used in pressure washing systems, are now available with a wider range of mechanical options and communications interfaces. In the case of encoders, this includes more shaft diameters and more flange types – hub and square. For both encoders and inclinometers, the range of available interfaces now includes analog, CANopen, J1939, SSI, Modbus and IO-Link. Incremental encodes are also available with HTL/TTL serial interfaces..
"Pressure washing is an important part of the maintenance process in many industries", comments Christian Fell, head of POSITAL's North American operations. "It's used to clean up heavy equipment for construction and agriculture, to sanitize food processing machinery and in many other situations." By supplying position and motion sensors capable of withstanding this harsh treatment, POSITAL helps OEMs and system integrators ensure that the equipment they build can meet the highest standards for reliability, maintainability and long service lives.
Created by the International Electrotechnical Commission (IEC), the globally accepted IP (Ingress ­Protection) rating system classifies the degree of protection provided to a device's internal components. To qualify for a rating of IP69K, a device must be able to withstand a high pressure (10,000 kPa/1450 psi), high temperature (176 °F/ 80 °C) water spray for at least two minutes.
POSITAL uses special housing and sealing solutions for its IP69K-rated products. Ingress-protected IXARC encoders are resistant to shock and vibration loading and can be ordered with heavy-duty stainless-steel housings designed for the rough conditions encountered by mobile machinery and off-road vehicles. Multi-turn absolute models feature a self-powered rotation counter system, based on Wiegand energy-harvesting, that eliminates the need for backup batteries.
In the case of IP69K-rated TILTIX inclinometers, extra-rugged die-cast aluminum housings are put to work to withstand accidental impact loads (e.g. from tools or unsecured pieces of equipment). TILTIX sensors – with IP69K rating – are also available as acceleration compensated inclinometers that feature industry-leading dual-sensor technology. Labeled 'Dynamic TILTIX', these devices sharply reduce measurement errors due to inertial effects caused by rapid motions.
With a wide range of available mechanical configurations and interface options, rugged IXARC encoders and TILTIX inclinometers are straightforward to integrate into new or existing designs. POSITAL makes it easy for customers to find the right IP69K-rated sensors for their specific application. With the powerful product finder tool at www.posital.com, users can input the product features they need and quickly zero in on the most suitable IXARC encoder or TILTIX sensor. With POSITAL's digital "Mass Customization" system, sensors – whatever their special features – are usually built and shipped in a matter of days. Minimum Order Quantity? One!
POSITAL's wide range of IP69K-rated encoders and inclinometers will be on display at CONEXPO 2020 in Las Vegas, March 10-14. Visit POSITAL in Booth S84147, in the South Hall.
For more information, visit www.posital.com.