Yaskawa's MotoMINI receives Distinction for High Design Quality in the Red Dot Award: Product Design 2019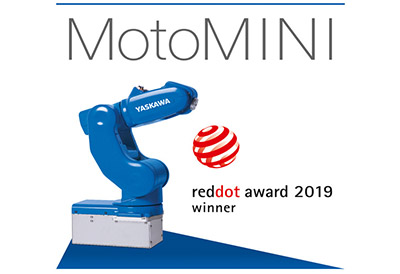 April 3, 2019
With a range of 350 mm the new MotoMINI can handle a payload of 500 g. As a lightweight, high-speed robot the compact 6-axis computer combines fast cycle rates with a high degree of repeatability of 0.02 mm. This makes the MotoMINI ideal for handling small workpieces and components, but of course also for assembly work in small production machines.
Thanks to its compact design, it has only a small footprint. Within the smallest of spaces this robot moves components in all three directions and around all three axes. This freedom of movement facilitates more complex, three-dimensional handling operations.
It reduces the space requirements for the production plant, while boosting productivity. At only 7 kg the dead weight of the manipulator is so small that depending on operating conditions or workpiece being processed the robot can be used flexibly and application-specific. The robot is thus in alignment with Yaskawa's strategy of "built-to-order" products that satisfy the requirements today's of Industrie 4.0.
Design quality is the common factor for award-winning products
"I would like to congratulate the laureates sincerely on their wonderful success. The fact that their products were able to satisfy the strict criteria of the jury bears testimony to their award-winning design quality. The laureates are thus setting key trends in the design industry and are showing where future directions may lead," said Professor Dr. Peter Zec, founder and CEO of Red Dot, in reference to the winners.
Experience and expertise get straight to the point
The Red Dot Award: Product Design is one of the world's largest design competitions. In 2019, designers and manufacturers from 55 countries entered more than 5,500 products in the competition. The international jury comprises experienced experts from different disciplines and has been convening for more than 60 years in order to select the year's best designs. During an adjudication process that spans several days, they try out the products, discuss them and ultimately reach a well-founded decision regarding the design quality of the entries. True to the motto "In search of good design and innovation", their assessment focuses on criteria such as the level of innovation, functionality, formal quality, longevity and ergonomics.
Success to be celebrated at the award ceremony
On 8 July 2019, Yaskawa will celebrate its success during the award ceremony. The international design scene will gather in Essen's Aalto-Theater as part of the Red Dot Gala. At the subsequent Designers' Night party, the Red Dot laureates will receive their certificates and the MotoMINI will join the exhibition "Design on Stage" in the Red Dot Design Museum Essen, which presents all of the award-winning products. From that date, the MotoMINI will also be on show in the Red Dot Design Yearbook, online and in the Red Dot Design App.
Go HERE for more information