Sealcon Twilock-S is Intermateable with SpeedTec by Intercontec/TE Connectivity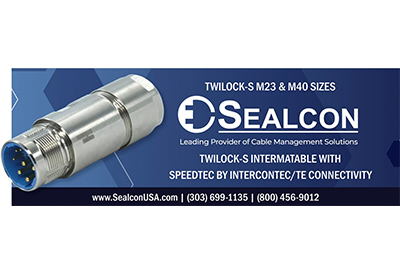 September 27, 2021
Space constraints are getting smaller at least for the trends in miniaturization with manufacturing. This causes the ability to connect and disconnect connectors to be more problematic. Sealcon is answering the call for miniaturization with the Twilock-S easy locking system. By a quick ¼ turn, the Twilock-S connector can be connected to other Sealcon Connectors as well as mated to SpeedTec by Intercontec/TE Connectivity connectors.
Installation is "Childs Play" with the Twilock-S and time and cost savings of installation is significant due to connectors being able to be field attachable. Twilock-S connectors mate quickly with just a quarter turn and have a clear open and closed notation on the housing to help eliminate errors and to verify a secure connection. Environments that have limited or no visibility are helped with the self-guiding mating design that will only allow the connector to be mated one way. In addition, the robust design of the Twilock-S provides high vibration resistance which is a great help with limiting production down times due to connectors coming lose.
The Twilock-S locking system is available in Signal, Power and Hybrid options in M23 and M40 in a variety of pin-out configurations.