Schunk: Rotary and swivel units of the next generation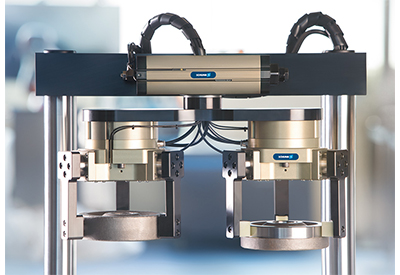 July 25, 2019
SCHUNK has expanded its portfolio with two swivel modules for automation, ushering in a new era of rotary motion. Reason enough to question where we are heading for, when it comes to rotary and swivel units, and the hidden potentials.
Be it high loads or short cycle times – rotary modules and swivel units are constantly under pressure to deliver even better performance when it comes to handling and assembly. In recent years, SCHUNK, the competence leader for gripping systems and clamping technology, has systematically expanded its modular program for rotary movements, developing particularly dynamic, intelligent, and adaptable components. The latest addition to the pneumatic segment is the SCHUNK SRM. The high-performance swivel unit outshines even the top seller SCHUNK SRU-plus and could soon be the new standard in pneumatic swiveling up to 180°.
The benchmark in performance density, longevity, commissioning, and maintenance
Compared to the existing pneumatic swivel units on the market, the powerful module scores with a yet unseen unique combination of high torques and high mass moments of inertia at short swivel times, large center bore, robust bearing, and at the same time slim interfering contours. For the development of the high-performance module, SCHUNK has used the latest simulation technologies enabling for the first time the collection of reaction forces, pressure sequences, impact speeds, kinetic energies, and drive. New dampers and special piston seals, as well as a Viton/FKM sealing form the basis for what continues to be a unique service package with a high level of robustness. The rotary module is therefore also suitable for use in environments with aggressive media. Both in axial and radial directions, the play-free, pre-loaded bearing allows the absorption of particularly high torques and shear forces. As the inner dampers are usually preset, only the throttles need to be set during commissioning before production can begin. When the inner shock absorbers are exchanged, both the swivel angle and the adjustment of the damper stroke remain unchanged: meaning maintenance work is done very quickly.
Optional rotary feed-throughs
With the SCHUNK SRM, systems can be designed that have smaller dimensions, cycle times are reduced, and both precision and service life are increased. The high performance density offers the perfect prerequisites for particularly compact, and at the same time efficient solutions. The consistently modular design of the swivel unit provides a customized design at an unrivaled price-performance ratio. The exceptionally large center bore allows the feed-through of pneumatic cables and preassembled cables with integrated connectors. The pneumatic or electric rotary feed-through provides even more convenience: If the pneumatic media feed-through is used, the large center bore is fully preserved. For the electric rotary feed-through, the sensor cables can be directly inserted into the module. In doing so, the color-coding on the plug connector simplifies commissioning, and allocation of the signals. If despite every precaution the cable should break, individual cables are replaceable without having to replace the entire rotary feed-through. The high-performance swivel unit SCHUNK SRM will initially be available in the sizes 14, 16, 25, and 40 for swivel angles of 0°/180°, 0°/90° or is freely adjustable for swivel angles between 0° and 180°. In size 40, torques up to 23.7 Nm and moments of inertia of up to 7 kgm2 can be achieved. That is almost a 20% higher torque than the previous top model the SCHUNK SRU-plus.
Swivel module with 24 V technology
The next highlight is the mechatronic rotary module SCHUNK ERP. Instead of constantly adjusting throttles and changing shock absorbers, as in the case of pneumatic rotary modules, or loading new sequences as with electric rotary modules, users can now opt for an electric alternative that is much simpler and cheaper over the long term. With its low-wear components, SCHUNK meets all the demands of the industry for developing an automated system that runs as fault-free as possible, and at the same time also largely maintenance-free. The biggest challenge with pneumatic swivel modules thus far has been the patience, experience, and accuracy required of the commissioning engineer, as well as the wear of the shock absorber. Up to now, pneumatic swivel modules are always over-loaded, whether due to lack of knowledge and patience, or because of high cycle time demands. While properly adjusted pneumatic swivel units distinguish themselves by absence of mechanical impacts and vibrations, overloaded units create impacts and considerable vibrations throughout the entire system at times. Result: Shock absorbers wear out prematurely, unplanned system downtimes occur, and in extreme cases other system components such as sensitive camera systems can be impaired by permanent vibrations.
The intelligent auto-learn function
This is exactly where the concept of the mechatronic swivel module SCHUNK ERP comes in: In contrast to pneumatic swivel units, the 24 V component does not require hydraulic shock absorbers. This eliminates both, the frustration of having to adjust the shock absorber and the main source of error when swiveling. In turn, an intelligent auto-learn technology is fully automatic. It ensures that the movement profile is always adapted to the respective part weight. For commissioning, the 24 V component is simply connected via digital I/O to the control unit, and if necessary, the end position is mechanically fine-tuned (+/- 5 °). Everything else is done by the integrated auto-learn technology. Three to five rotary movements are enough to complete the programming. The course of the movement is a ramp profile. Depending on the swivel angle and the weight of the swivel body, the directly driven rotary unit accelerates and brakes automatically. Impacts, vibrations, and uncontrolled movements at maximum speed are negligible. This minimizes the noise level and wear, and makes the use of hydraulic shock absorbers superfluous. At the same time, the shortest of reaction and travel times are possible. If the component weight changes during the process, the module automatically adjusts its movement profile, without requiring any operator intervention. The speed is easy to adjust via a rotary switch on the housing. As control takes place via digital I/O, the SCHUNK ERP series is compatible with all controllers, and help to simply replace pneumatic modules. The 24 V rotary module is available in the first step in size 25 for mass moments of inertia up to 0.1 kgm2, and a swiveling angle of 45°, 90° or 180°. The repeat accuracy is +/- 0.01°.
Flexible mechatronic module
SCHUNK has already successfully proven the potential that lies in mechatronic rotary modules: The versatile rotary module SCHUNK ERS with its three diameter variants of 135 mm, 170 mm and 210 mm is particularly designed for rotary movements within the medium load range. In size 170 at a compact height of 66 mm, it reaches a nominal torque of 5 Nm and a maximum moment of up to 17 Nm. This means that it offers ideal conditions for implementing both, flexible and compact concepts for automated systems. The compact module is useable as a rotary unit or rotary indexing table in assembly applications. Turning endlessly with up to 750 RPM, it can approach intermediate positions with a repeat accuracy of 0.01°. In contrast to rotary modules with conventional servomotor, the ERS does not have an additional interfering contour. Elasticity due to play and friction also do not occur any longer. Instead, the long-lasting module features excellent acceleration, swiveling speed, and precision. On request, a pneumatic holding brake is available. It ensures that each position can be set in a reliable manner. The large center bore allows feed-through of cables, workpieces or the use of a camera. However, this is not all: For feeding through compressed air or signals without hoses or cables through the module, the compact module is available in a version with pneumatic-electric feed-through. By using a slip ring or air channel of up to eight electric signals (24 V DC/2 A), and a fluid with a pressure up to 8 bar. The version with rotary feed-through achieves speeds of up to 250 RPM.
The endlessly rotating miniature module SCHUNK ERD is particularly designed for assembly applications in the field of electronics, consumer goods, and pharmaceutical industries. It comes with an equipment package that is unique on the market: The standard module is equipped with two integrated air feed-through. On option, four electric feed-through and one absolute path measuring system are available. The SCHUNK ERD, which is available in three sizes with nominal torques of 0.4 Nm, 0.8 Nm, or 1.2 Nm, can be implemented with space-saving, high-torque, high-speed assembly systems that also comply with the demanding requirements of the machine directive. A brushless synchronous motor with permanent excitation actuates the rotary module. Its special geometry ensures high dynamics and acceleration, and due to the optimized air feed-through, pneumatic actuators can be faster connected to it. These two combined factors ensure short cycle times and high productivity. The absolute-value transducer means that there is no need for time-consuming reference runs either when starting up or after an emergency stop. The repeat accuracy specified as 0.01°, is also an additional benefit.
Smart swiveling for smart factories
For Prof. Dr.-Ing. Markus Glück, Managing Director Research & Development, CINO, at SCHUNK the potential for rotary motion is still far from being fully used: "We are currently experiencing a phase of rapid technological innovation. Highly automated, interconnected production systems are determining intelligent production processes and making their way into production facilities," states Glück, describing the status quo. "The market is demanding swivel units that can be put into operation quickly and intuitively without the need for special technical know-how. The swivel units of tomorrow will also have to automatically adjust to load situations and application scenarios." The swivel module SCHUNK ERP is a milestone in this regard, as for the first time, it is now possible to implement autonomous adjustment of the module using integrated intelligence. Looking forward, the head of R&D expects that the sensitivity as well as performance density and dynamics of swiveling and rotary modules will continue to increase. "In the future, a continuous system diagnosis will ensure the correct, optimum, and resource-saving use of swivel units with maximum dynamics," assures Glück. "Commissioning engineers will be easily supported in the future by integrated sensor systems. What is more: When it comes to smart rotating and swiveling, the entire rotary process will be monitored in the future, and the automated system control and peripheral units will be provided with corresponding process data in real-time. "The aim is to provide continuous status information that can be accurately interpreted without detailed technical knowledge," emphasized Glück. These types of intelligent systems have resulted in longer machine runtimes, and a reduction in unplanned, costly downtime and reinvestment. This can help to eliminate or reduce the need for storage for replacement components to a minimum, which from the user's point of view, ties up too much capital for too long of a time.
"In the future, swivel units will become intelligent due to modern sensor systems." – Prof. Dr.-Ing. Markus Glück, Managing Director Research & Development, CINO SCHUNK GmbH & Co. KG, Lauffen, Germany
Combined gripping and swiveling with 24 V
The world's most compact electric gripper swivel unit SCHUNK EGS, enables endless rotation of the gripper without electrical feed-through. Pre-loaded junction roller guides, which are free from play, ensure high-precision gripping and virtually constant gripping forces along the entire finger length. The gripper swivel module is equipped with standard connections controlled via fieldbus distributor or via digital I/O, meaning it is compatible with all common control systems, and no additional costs and delivery times for the peripheral equipment are involved. The complete control and power electronics for decentralized control of the motor is integrated in the module. There is no need for any valve terminals like on pneumatic gripper swivel modules or drive controllers in the control cabinet. This saves space and a great deal of time when planning, procuring, and commissioning. Both the speed of rotation and the gripping force are controllable in several stages directly on the module by means of rotary switches. Angles of rotation between 30° and 270° are possible. These are mechanically set on the module. Monitoring is possible via inductive proximity switches. Since the module is exclusively equipped with stationary, brushless and thus wear-free 24 V DC motors, and does not need movable cables, slip rings or shock absorbers, it increases the process stability and availability of assembly plants. The noise level also drops.