B&R's new Power Panel offers a dedicated processor for HMI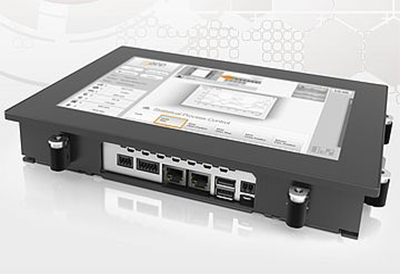 April 30, 2019
The Power Panel C50 provides the combined advantages of a powerful controller and a modern projected capacitive touch screen in a single HMI device. The Power Panel is equipped with a dedicated processor for the HMI application, and is therefore an optimal solution for mapp View HMI applications. It can be used at temperatures ranging from -20°C to +60°C and does not require a fan.
The modern multi-touch HMI is available with clear or anti-reflective glass, and is ideally suited for premium machine designs. The touch screen reacts precisely and reliably even when operated with thick leather gloves. Gestures such as zoom or swipe provide an intuitive user experience. The Power Panel C50 is available in widescreen format in four different sizes from 7.0″ to 15.6″.
Compact and maintenance-free
This Power Panel has an extremely compact design, minimal installation depth and an intelligent cable outlet arrangement, making it an easy-to-mount space saver. With no hard disks, fans or batteries, it is also maintenance free. The front of the panel provides IP65 protection, making it extremely well-suited for harsh industrial environments.
Numerous interfaces
To allow optimal use of this performance, the Power Panel C50 has a wide range of integrated interfaces, including POWERLINK, Ethernet and USB. I/O modules, axes and safety components can also be connected directly to the panel. There's no need for additional controllers.
Using the advantages of mapp View
The high-performance Power Panel C50 is ideal for running mapp View HMI applications. With the mapp View software package, B&R offers direct access to the wide world of web technology right from the engineering environment. Automation engineers have all the tools they need to create powerful and intuitive HMI solutions. There is no need to deal directly with HTML5, CSS and JavaScript technology. mapp View is based entirely on web standards, ensuring optimal viewing on any device. Content of multiple screens can be customized for specific users or user groups.
Go HERE for more information