Noark's New Ex9S80 Manual Motor Starter
Noark Electric has introduced a new Manual Motor Starter product to extend their line of industrial control products
July 19, 2023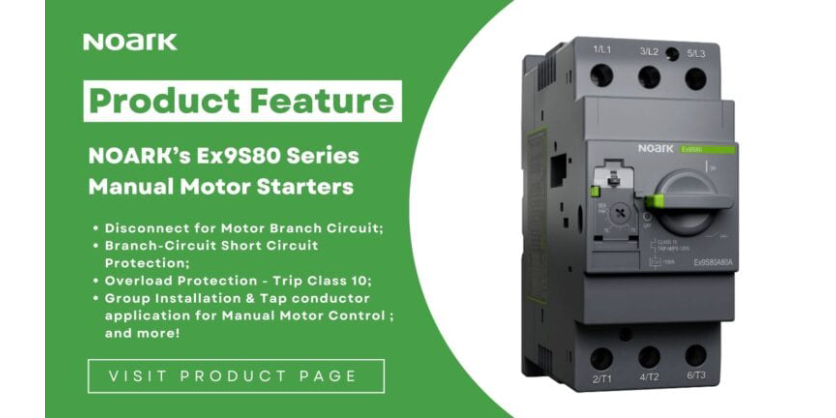 Noark's Ex9S series of Manual Motor Starters (MMS) provide manual isolation, manual motor control, and overcurrent protection. The new Ex9S80 MMS ranges from 14 to 80A and offers two protection types: thermal-magnetic and magnetic. They are UL 60947-1 and CSA C22.2 NO. 60947-4-1 compliant and come with a full line-up of accessories for single and group motor installations.
Like their line of EX9S32 MMSs, the Ex9S80 are electromechanical devices that combine the following: disconnect for motor branch circuit, manual motor control (automatic when used with a contactor), branch-circuit protection (magnetic protection), overload protection (thermal protection) – trip class 10 and come with a 5-year limited warranty. With the ability to increase current settings up to 80A, they are suitable for high-power motors up to 56kW.
What are the Ex9S80 Manual Motor Starter's Features?
The new Ex9S80 Manual Motor Starter features include:
Disconnect for Motor Branch Circuit;
Branch-Circuit Short Circuit Protection (Magnetic Protection);
Overload Protection (Thermal Protection) – Trip Class 10;
Group Installation & Tap conductor application for Manual Motor Control (automatic when used with contactor); and
5-year limited warranty.
Noark's Ex9S80 Manual Motor Starters; A Complete Motor Protection Concept
Customers need safe and reliable tools when it comes to turning critical electrical machinery on and off. The Ex9S80 offers reliable branch circuit short circuit protection and overload protection for electric motors in nearly every situation, including hazardous areas. They are designed to protect installations from short-circuits, overloads, and phase failures, preventing downtime and helping to maintain productivity.
Typical applications where the Ex9S80 stand out include water and sewage treatment, HVAC, wind power, machinery, critical distribution, and buildings and infrastructure. No matter where they are used, the Ex9S80 MMSs are the right protection device for electric motors with ratings up to 80A.
Ex9S80 Manual Motor Starter Certifications
The Ex9S80 Manual Motor Starter has received the following certifications:
UL-listed;
CCC Certified;
NOM Certified; and
RoHs Compliant.
Ex9S80 Manual Motor Starter Standards Compliance
IEC/EN 60947-1, 60947-2, 60947-4-1, 60947-5-1;
UL 60947-1; 60947-4-1;
GB 14048.1, 2, 4; and
CSA 22.2 NO. 60947-1, 60947-4-1.
Protection and Control Accessories for Your Application
The Ex9S80 MMS is designed to connect easily and function readily with Noark accessories to provide ease of installation and speed up the time to get your projects running. The Ex9S80 can be used in Type E combination motor controllers, group motor installation, and tap conductor applications in manual motor controllers. These installations use components such as contactors, fuses, overload relays, molded case circuit breakers (MCCBs), miniature circuit breakers (MCBs), soft starters, auxiliary contacts, fault signaling contacts, shunt and undervoltage releases, operating handles, and more.
Noark Electric: Your First Choice for Motor Control and Protection
Noark is a global manufacturer of low-voltage electrical components for industrial applications and their specialties involve motor control and protection for original equipment manufacturers (OEMs). They are well known for their world-class manufacturing and rigorous testing of products that meet or exceed the highest performance standards in the industry.
Noark's entire portfolio of products is designed for manufacturing and assembly. And each component is developed in-house by their engineering team to meet the strictest standards and performance requirements and is covered by their exclusive five-year limited warranty. If you are interested in learning more about their Ex9S80 Manual Motor Starters or other low-voltage electrical components manufactured by them, visit the Ex9S80 Manual Motor Starters page today.
More Information
Related Product
The Noark Electric A32 family of UL1066 Listed and ANSI C37 compliant Air Circuit Breakers provide comprehensive ratings and exceptional quality to LV Switchgear and Power Distribution OEMs. A32 breakers offer ampere ratings from 800A to 3200A and IC ratings up to 100kA at 600Vac.