LS Electric Servos Systems from AutomationDirect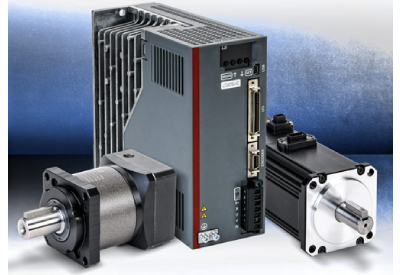 November 23, 2021
AutomationDirect has added LS Electric servos systems that provide extremely accurate motion control and include the most requested features – setup wizards, auto-tuning, built-in indexer, and more – in an extremely cost-effective package. The L7S family of brushless servo systems is fully digital and capable of covering a broad range of motion control applications.
There are five standard servo motors from 100W to 1kW that can be operated in combination with one of two standard servo drives. The L7C drives accept single-phase 200-230VAC and are controlled via analog speed or torque signal, high-speed pulse train, or internal indexing. Setup is easy using the built-in keypad/display or the FREE DriveCM PC-based software. These systems are fully compatible with most AutomationDirect PLCs or any other host controller.
The L7C family includes standard accessories such as pre-made servo motor encoder cables and servo motor power/brake cables. DIN-rail mount I/O break-out kits allow for easy connection of external command and I/O signals; optional external braking resistors and optional AC input filters are also available.
LS Electric® L7C Servo Systems – Servo Motors and Servo Drives … New!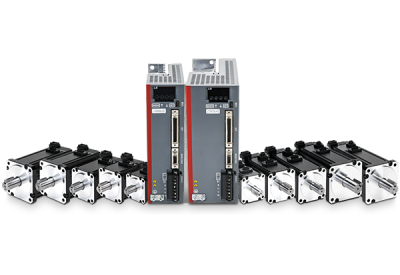 Drive Features
Easy setup and diagnostics with built-in keypad/display or the DriveCM PC-based software
Field upgradeable firmware ensures the drive can always be upgraded to the latest operating system
Command options include:

±10V torque or velocity command
Pulse train or master encoder position command
Real-time selectable electronic gearing

Internal Indexer for position/speed-based moves:

64 individual move statements can be configured
Each move includes distance, speed, accel, decel, and dwell parameters
Set up through DriveCM software or via serial comms (PLC, HMI, w/ Modbus via RS485 or RS422)
The move can be initiated via Digital Inputs or through serial comms
Index profiles include relative or absolute moves, registration, blended moves, and positive/negative/shortest distance rotary table moves.

Two auto-tuning modes:

Off-Line auto tuning (the drive initiates moves while auto-tuning)
On-Line auto tuning (an external controller sends move commands during auto-tuning)
Manual tuning allows the user to adjust all tuning values
Optically isolated digital I/O:

10 inputs
5 general purpose, configurable outputs
3 outputs permanently configured for alarm & status codes
1 line driver output for encoder (with scalable resolution)

Software-based oscilloscope feature that can monitor a variety of command and status signals, including output speed, torque, power, and more
Standard 50-pin DIN-rail mounted break-out kit for the drive's CN1 connector (with screw terminal connections), or 50-pin cables with flying leads
Servo Motor Features:
Five low inertia models:

100W, 200W, 400W, 750W and 1kW
Speeds up to 5,000 rpm

Permanent magnet 3-phase synchronous motors
Keyed drive shafts support clamp-on style couplings or key-style couplings
Integrated encoder with 17-bit resolution (131,072 pulses per revolution)
Optional 24 VDC spring-set holding brakes (AYK2 motors)
Standard hook-up cables for motor power, encoder, and brake in standard or flex-rated lengths of 3, 5, 10, and 20m
The L7C servo system selector tool is available here; it provides selection assistance for your application requirements and assures that all the required and optional accessories are included in your first order.
For more information on the LS Electric servo systems, click here