LS Electric® L7P Servo Systems from AutomationDirect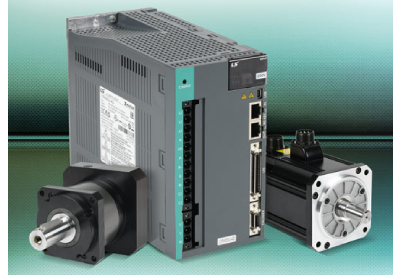 October 6, 2022
AutomationDirect has added new L7P servo motors, drives, cables, and gearboxes from LS Electric. These new intermediate-level L7P servo systems have all the features of the basic L7C servos including setup wizards, auto tuning, built-in indexer, and more, but with a larger range of system sizes and the option for 460VAC operation. The built-in absolute encoder on each servo motor is also higher resolution at 19-bit (524,288 ppr).
The L7P systems are available from 100W to 7.5kW with 230VAC input power and 900W to 7.5kW with 460VAC input power. The 230VAC systems can operate single-phase up to 2.2kW.
All motors are available with or without a 24VDC holding brake. The free Drive CM software eases setup/configuration and includes autotuning algorithms and an oscilloscope to fully optimize your application.
A matched set of LS Electric gearboxes are also available for each motor, with gear ratios of 5:1, 10:1, and 20:1 (7.5kW systems limited to 15:1). Hook-up cables for motor power and encoder connections are available in standard or flex-rated lengths of 3, 5, 10, and 20m.
The LS Electric L7P servo drives start at $375.00, and the servo motors start at $260.00. All new L7P servo system components come with a two-year warranty.
To learn more about the new L7P servo systems from LS Electric, click here