Lapp USA: ROBUST, RELIABLE ÖLFLEX VFD 2XL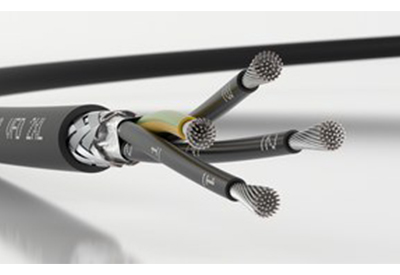 July 11, 2019
The industrial cables you select for variable frequency drives (VFD) need to exhibit both flexibility and the ability to thrive in harsh factory environments. Lapp USA's ÖLFLEX VFD 2XL cable doesn't just meet these demands—it exceeds them.
Let's take a closer look at why this cable is the ideal choice for your VFD:
A Robust Cable for Factory Environments
The ÖLFLEX VFD 2XL series is designed for VFD motor connections in both fixed and flexing installations. Able to withstand harsh environments, this cable features an industrial-grade, phthalate-free jacket and resists oil and flames. Thanks to its special XLPE insulation and enhanced thermal properties, it's suitable for industrial applications up to 2 kV and can withstand 6,000 V—twice the dielectric test voltage.
Expanding its capabilities even further, the ÖLFLEX VFD 2XL cable now features a drain wire—enabling you to protect your cable and equipment from EMI. You can also ground the shield using our SKINTOP MS BRUSH cable gland.
Cable Flexibility Brings Additional Benefits
In addition to being ruggedly constructed, the ÖLFLEX VFD 2XL affords you greater design flexibility. For one, this cable saves space due to the reduced wall thickness of its insulation. Because it doesn't contain closed raceways, it's also suitable for open wiring—saving you installation time and costs. And thanks to its low-capacitance design, you can deploy longer cable connections between the frequency converter and motor.
Additional features and benefits include:
Wide temperature range: -40° to 90°C (fixed)
Minimum bending radii: 15 x OD (occasional flexing), 7.5 x OD (fixed)
UL TC-ER approval—no conduit required
Multiple certifications—reducing part variety and costs:

Class 1 Division 2 per NEC
Flexible Motor Supply Cable
c(UL) CIC/TC
CE (50 V–1 kV)
Find out more HERE.