IE5+ Synchronous Motors from NORD – Efficient. Hygienic. Compact.
March 21, 2022
The new generation of NORD® IE5+ synchronous motors is manufactured in-house for use in intralogistics as well as in the food and beverage industry. Our motors feature a compact and hygienic design in a very small space and thus ensure high corrosion resistance and easy cleaning. The permanent magnet synchronous motor (PMSM) is optionally available as an nsd tupH™ or IP69K version.
The motor-integrated encoder is standard and an integrated mechanical brake is optional. By using the motor, the number of versions and operating costs are reduced. It is compatible with all gear units and variable frequency drives from the NORD® modular products.
The new IE5+ motor generation is designed for minimizing variants and reducing operating costs
•Highest operational efficiency with IE5+ technology Reduced TCO and fast ROI
•Variant reduction through constant torque over a wide speed range
•Non-ventilated variant (N-Design) for hygienic wash-down areas such as food & beverage applications and other harsh environments
•Ventilated variant (F-Design*) with a high overload capacity for logistics, packaging, post & parcel, manufacturing, and more
•Fully matched NORD modular system solution with gear unit, motor and variable frequency drive
Features
•Latest generation permanent magnet synchronous motor (PMSM)
•Power range from 0.5 – 3 HP in two frame sizes
•Available with direct mounting to NORD gear units, NEMA C-Face, IEC B14, and IEC B5 flange mounting
•Continuous torque of 14.16 – 161.1 lb-in in two frame sizes
•Speed range from 0 – 2100 rpm
•Optional nsd tupHTM Sealed Surface Conversion System
•Optional IP69K protection class when sold as a complete gearmotor Optional integrated encoder
•Optional integrated mechanical brake
NORD geared motors with nsd tupH are the optimal choice for use in challenging environmental conditions.
•Easy to clean surfaces
•Resistant to acids and alkalis (wide pH range) No spreading of corrosion, even if damaged No flaking
•Corrosion-resistant – no contact corrosion Conforms to FDA Title 21 CFR 175.300
•Free from chromates
The complete solution for extreme conditions
•Surface-treated housing components
•DIN and standard components made from stainless steel Wash-down housing (gear unit and motor)
•Stainless steel shafts
•Special radial shaft seals
•Food-compatible oil
Variant reduction
By reducing the number of variants, it is possible to minimize administrative expenses and set up leaner manufacturing, logistics, storage, and service processes. The new generation of IE5 motors combines the benefits of NORD's modular system with the possibility of reducing system variants.
This solution is tailored to each customer and features the following advantages:
•Motor can be operated worldwide
•High system overload capacity
•Large speed range
•Explicitly tailored to the individual load range
•Minimal space requirements paired with high power density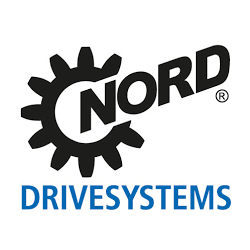 To learn more about NORD's new IE5+ Synchronous Motors, click here