HPS Sentinel Ventilated Transformers (NEMA Rated) from AutomationDirect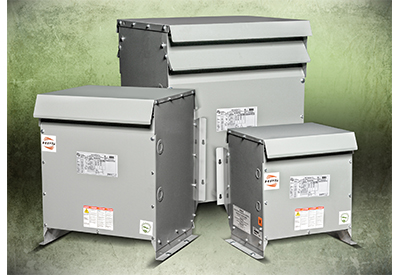 September 5, 2019
HPS Sentinel G ventilated stand-up distribution transformers meet the latest federally mandated energy efficiency standards as outlined by DOE 2016 and NRCan 2019 requirements.
These dry-type 3-phase distribution transformers are open coil/core ventilated, NEMA 3R (outdoor enclosed) rated and offer significant energy savings and environmental benefits. The HPS Sentinel models are rated up to 75kVA, and the standard 10kV BIL rating (Basic Insulation Rating) provides increased reliability and protection against critical equipment failure including protection against voltage spikes and other line transients.
Standard advanced core and coil construction features save installation labor and materials. The core is manufactured from quality non-aging, cold-rolled, silicon steel laminations and precision cut to close tolerances which eliminates burrs and improves performance. The core is coated to prevent the ingress of moisture and precision wound aluminum conductors are electrically balanced to minimize axial forces during short-circuit conditions.
Starting at $1,235, HPS Sentinel transformers from AutomationDirect are UL and CSA certified and have a 10-year warranty.
Learn more by visiting: www.automationdirect.com/ventilated-transformers