Hammond Manufacturing: Flame-Retardant ABS 1556 Family
June 5, 2023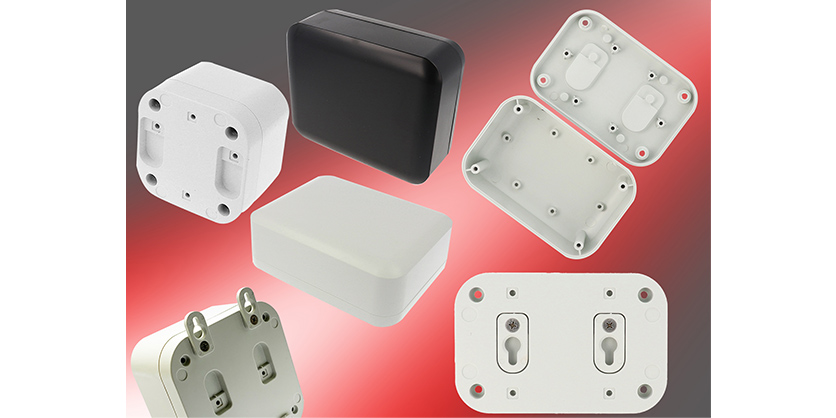 Introducing the Flame-Retardant ABS 1556 Family of Enclosures
The new 14-strong flame-retardant ABS IP54 1556 family, rated UL94-V0, is inspired by Hammond Manufacturing's recently launched IP68 polycarbonate 1557 series. It follows the same modern rounded corners and top face styling and introduces rectangular versions to complement the square format versions derived from the 1557 series. IP54 sealed for general purpose indoor use, the ABS material gives a lower price point than the polycarbonate used in the 1557, which is designed for installation outdoors and in aggressive environments.
Self-tapping screws secure the lid to the base, making it ideal for applications where repeated opening and closing is not required. It is feature-rich and offer multiple option for configuration and customisation. There are multiple PCB mounting standoffs in both the lid and the base.
There are four square plan sizes from 80mm x 80mm to 200mm x 200mm in the range and three rectangular ones from 120mm x 80mm to 200mm x 160mm. All sizes are available in two heights, 45mm and 60mm for the smallest size and 45mm and 70mm for the larger ones in the family. All sizes are available in black, RAL 7035 grey and white. The modern soft rounded styling makes the 1556 an ideal desktop enclosure when fitted with the supplied feet, or it can be wall-mounted with either four visible mounts or two hidden mounts, which are available as optional accessories. Also available as an option for all sizes are 2mm thick aluminium internal panels.
Key Features:
Ideally suited for mounting printed circuit boards, IoT equipment, and other small electronics.
Can be used in a tabletop configuration using rubber feet (included) or two different wall-mount configurations using wall mount foot kit (sold separately).
Rounded corners and face provide a more modern look.
Lap joint construction provides protection against access of dust and splashing water.
Available in black, gray, or white flame retardant ABS plastic with light satin texture.
Molded from flame retardant material which carries a flammability rating of UL94-V0.  For indoor use.
Designed to meet IP54.
Lid hardware and 4x rubber feet included with enclosure. Lid is secured with high strength #6 x 1/2″ self-tapping Plastite screws.
Aluminum inner panels are available as accessories. Sold separately. 
More Information
Modern General Purpose Enclosures 1556 Series
Related Product
RS Group plc offers more than 4,900 fully customizable electrical and electronic enclosures from Hammond Manufacturing, in addition to more than 2,900 supporting products.
Hammond Manufacturing can factory modify every one of the more than 2,100 electrical enclosures and more than 2,700 electronic enclosures that RS has in stock or available for drop-shipping during the order fulfillment process and is committed to delivering a perfect product. Most modifications can be completed in just a few weeks.