Hammond Manufacturing: 1590ZGRPBK Series Type 4, 4X Glass Reinforced Polyester Enclosures
August 15, 2023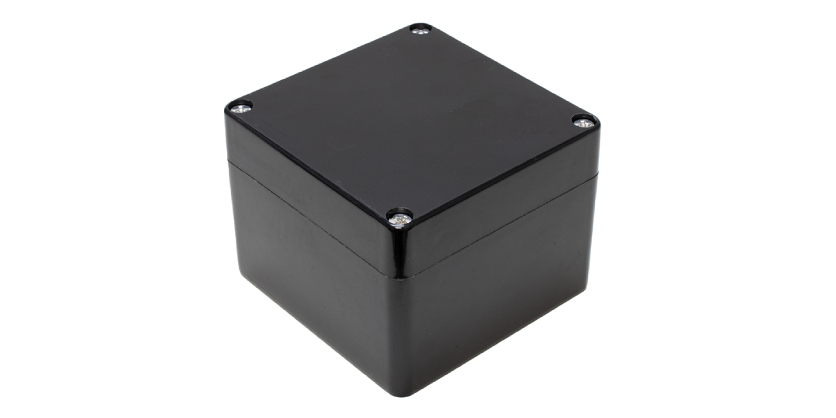 Introducing the 1590ZGRPBK Series Type 4/4X glass reinforced polyester enclosures, molded from a black, glass reinforced polyester with a smooth finish. These enclosures include a gasketed lid with two-piece 'tongue & groove' construction, and are heavy duty with a thick wall design. The lid contains self-captivated stainless steel screws, and the gasket material is silicone sponge with a temperature rating of -40 degrees C to +100 degrees C (-40 degrees F to +212 degrees F).
More 1590ZGRPBK Series Features
North American Mark of Safety – C UL & UL listed. Industrial Control Panel Enclosure Certified to NEMA 4, 4X standards (UL 508A) – File #E65324 and IP66 Rated
Enclosures have an impact rating of IK09 in conformity with IEC 62208 and IEC 62262.
Easy wall mounting via "through box – blind hole" construction, outside of the gasket protection (see photos below).
Internal mounting shelf & bonding / mounting nuts molded in (see "open" photos or drawings for more details).
Optional 16 gauge, galvanized steel inner panels available (see drawings for details and part number listing below).
Accessories
Optional hinge kit, part number 1427HKBK
Molded from tough polyester
Includes 12 stainless steel M4 screws & 8 o-rings.
Mounting template included (refer to instructions)
Note: with hinges installed, all four lid screws are required to maintain a proper seal.
More Information
Type 4, 4X Glass Reinforced Polyester Enclosures
Related Product
Introducing the 1418 N4 AL Series Type 4X aluminum wallmount enclosures from Hammond Manufacturing, designed for use as instrument enclosures, electric, hydraulic and pneumatic control housings, electrical junction boxes and terminal wiring enclosures. These enclosures provide protection where equipment may be hosed down or otherwise be very wet, or in specific applications where corrosion may be a problem.