FH Vision Systems from Omron
The fast and most flexible vision system with newly added AI Components to the already complete and powerful set of inspection tools
June 6, 2023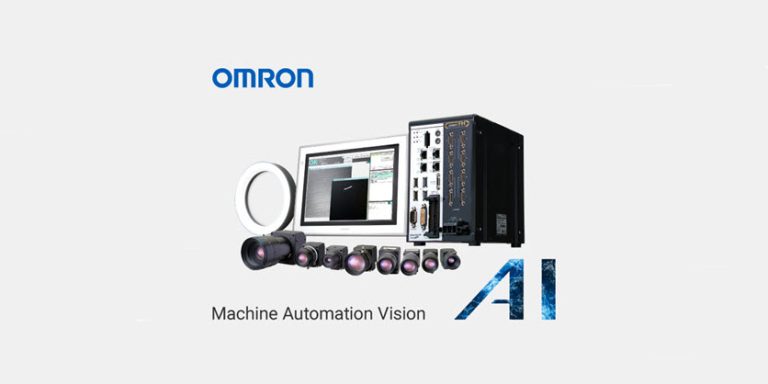 Omron's new FH Vision System is a compact yet powerful solution for advanced quality inspection, identification and positioning applications. With top-of-the-line sensing and processing capabilities, the vision system is designed to maximize production line performance and flexibility by matching and exceeding the sensitivity of human vision. Omron's patented AI technologies truly detect defects and accept natural process variation like no other system.
The FH Vision System offers industry innovations with:
Artificial Intelligence:

Industry's first AI component that captures defects with human-like sensitivity without pre-learning
Patented Scoring system for AI Fine Matching inspection. Three quick steps on the settings screen guide the user through the process of creating the good product model with the minimum number of images
No need for high-end hardware or specialized engineers who can configure the system to suit your needs. Omron's general-purpose vision system makes it easier than ever to introduce AI into manufacturing facilities
Omron's Think & See technology applied to state-of-art pattern matching tools like Shape Search 3 and Optical Character Recognition
Software & Algorithms: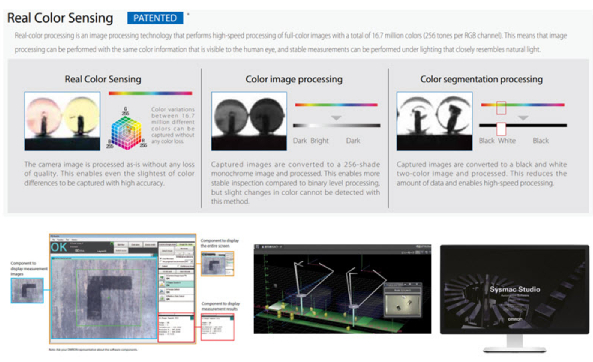 Real Color Sensing technology, which allows users to take advantage of full color analysis for quality inspection, code reading, parts locations and precise detection of challenging edges
Robust algorithms for image acquisition, measurement, filtering, support, displaying and data output
Software scalability for smart cameras (FHV7), FH vision systems (FH) and PC-based cameras (FJ) for the common inspection tools
Access to powerful inspection tool set with hardware acquisition and no yearly fees
Full customization capabilities for software interface, algorithms and tasks. Capable to integrate Vision Application software inside your pre-designed machine interface via .NET Controls
Live or remote connectivity for programming, simulation and operation. Multi-system management capability for backup, restore, settings compare and updates from a central location
NG Analyzer to support constant improvement and analysis of production data. Make adjustments to the system looking on a batch of inspection images instead of single one
Programmable via Omron's well-known FZ-PanDA Application Software or via Omron's unique Sysmac Automation Platform, where the user can program the entire machine via a true IDE (Integrated Development Environment), improving data exchange, machine integration, maintenance and development time
Custom options to attend unique industry requirements like CFR 21 Part 11, dotcodes, special hardware control and others
Controllers & Cameras:

High-speed, high-resolution compact cameras with a wide field of view. Complete offering of Global Shutter, Rolling Shutter, CMOS and CCD sensors ranging from 0.3MP to 20.4MP all available in monochrome and color options
Specialized camera options with built-in light and lens and even miniature sensors for small spaces
Customized Camera Link protocol to increase camera transmission speed, including dual channel options, providing power and full intensity control for Omron's light units as well
Complete offering of controllers and cameras for all types of applications where the user can take advantage of speed, memory, resolution, camera connectivity, network capabilities and others
Controller options with 2, 4 and 8 cameras ports for single or multi-line inspection modes via single controller
Traceability, Data Sharing & Connectivity: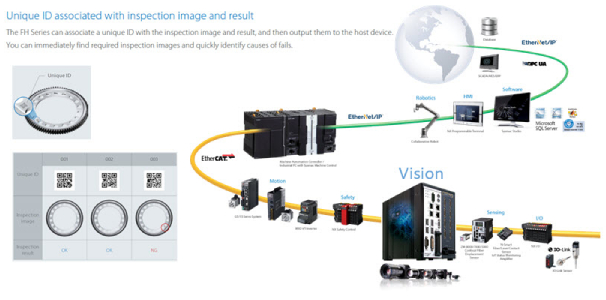 Complete traceability offering, including enhanced image acquisition modes, image analysis, Unique ID saving options and exporting to factory network or local storage device. Options to customize both image and measurement data, including merging external data provided by machine PLC.
Multi-thread CPU core management to prioritize inspections and data logging. Capability to parallelize inspections, make changes on the fly without stopping the machine and save logging data without delaying the inspection process.
Seamless integration with the complete Omron offering (PLC, Monitors, Robots, Motion Controllers, etc.), including third party vendors.
Advanced hardware interfaces, I/Os and communication options for connectivity with external devices, including EtherCAT, EtherNet/IP and PROFINET
Network segregation to separate machine network (quick data exchange) from factory level network (heavy loads of data), allowing for data organization and machine speed improvement
Specialized Accessories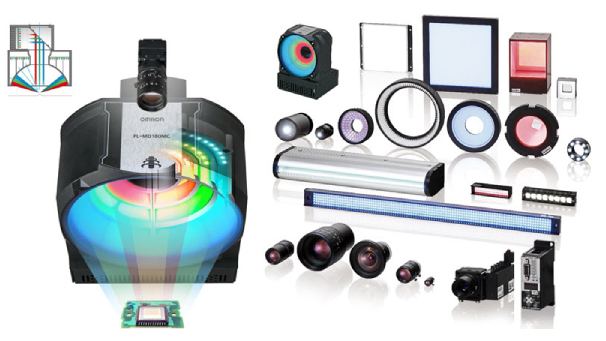 Innovative illumination technologies like the MDMC light (Multi-direction and Multi-Color control) and Photometric Stereo providing flexibility to spot subtle defects via Software control.
Complete list of Vision Accessories (Lights, Lenses, Cables, Monitors, others)
Motion & Robots Integration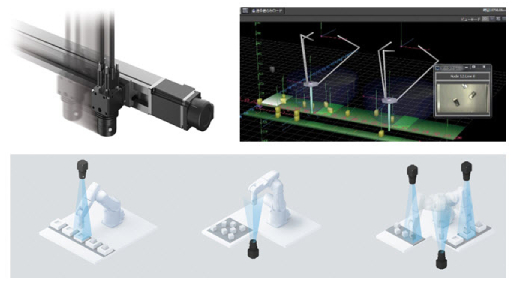 Flying Trigger synchronization allowing multiple image acquisitions without stopping your motion system for taking the image
Built-in advanced calibration tools and integration with motion systems and robots, including robot program generation (Omron and 3rd party)
Control the robot from the FH Vision System software
Are you considering automating and transferring assembly with robot vision systems at your manufacturing site? Look no further than Omron's FH 2D Robot Vision System, complete with AI defect detection, 2D code reading and OCR, and much more.
More Information
Related Story
Today, more industries are starting to adapt track and trace processes, not necessarily to protect themselves in the event of a recall or issue, but because they recognize the advantages the data from traceability can provide. They see the potential for using this data in a proactive way.