Festo launches comprehensive inch cylinder line-up with DPRA round body series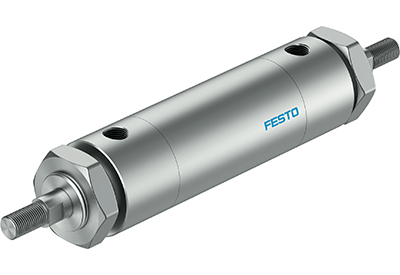 August 27, 2019
Festo has launched its own family of US-made, inch round body pneumatic cylinders – the DPRA series – to give OEM and MRO customers a high quality, direct replacement option for the non-repairable round body inch cylinder type used widely in North America.
DPRA cylinders are robust, reliable and priced competitively. They are built for a long service life, with a 304 stainless steel housing and a piston rod made of 303 stainless steel rather than the carbon steel others use; stainless steel provides superior corrosion resistance, even in harsh environments. They also boast low-friction U-cup seals that are inherently wear compensating to provide a long trouble-free cycle life, premium lubrication for maintenance-free performance and full ports and cross slots for quick response and full force performance. Their sintered bronze Rod bushing is oil-impregnated for low friction, supports a high load bearing capacity and assures excellent wear characteristics to maintain high performance over time.
DPRA cylinders are among the first Festo-branded products manufactured by Florida-based Fabco-Air since the latter was acquired by Festo almost a year ago specifically to enhance its North American product line-up with inch cylinder products like DPRA and Fabco's Pancake® type cylinders. Festo already is a world leader in designing and manufacturing metric cylinders, like the round body DSNU. While many manufacturers have moved to metric cylinders, there continues to be a large market in North America for inch sizing. Small round body cylinders are widely used in industries such as Electronics and Assembly where they fit into tight spaces on compact machines performing functions like loading or positioning PCBs, clamping, testing and relay production, and in end-of-line packaging for functions like sorting or flipping gates on a conveyor. They are generally favoured where users need small diameter, ease of installation, a short stroke (less than 12"), or lighter weight.
The DPRA cylinder family covers all of those bases and more. They are available in five variants, with seven bore sizes (soon to be 12), eight possible configuration options as well as sensor and mounting accessories. A further expansion early next year will include additional cushioning options. These made-in-USA inch cylinders with Festo quality are part of the company's core product range, meaning delivery is assured in five days or less.