Festo Automation Suite: New software gets automation up and running quickly, simply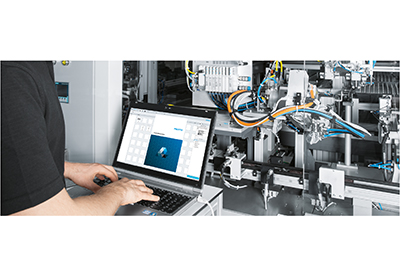 October 3, 2019
With the free, PC-based Festo Automation Suite commissioning software, getting a new drive package up and running couldn't be simpler and faster. Only five easy steps are needed to parameterize and configure all parts of an installation, from the mechanical system to the controller using the Automation Suite's commissioning wizard. It's all very intuitive.
The Automation Suite is one of Festo's digital tools to simplify and accelerate automation projects. It works with both Festo and third party controllers. Besides parameterization and programming of connected Festo components, it can display their status, provide process data and any pending diagnostic messages can be seen at a glance. The interface can be customized for the user's requirements by importing only those component and other plug-ins and sub-programs relevant to that installation or application.
The Automation Suite software also contains the basic workings of all Festo drive-related electric and pneumatic components. Device information, manuals and application descriptions can be downloaded from the software without having to open a web browser each time.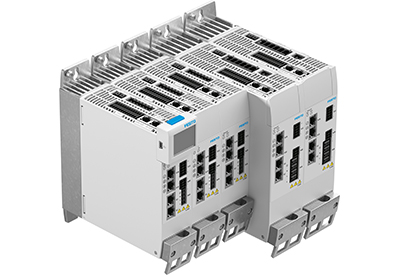 New components and capabilities continue to be added. For example, the new compact cost-effective CMMT-AS servo drive can be commissioned with the Automation Suite in just a few minutes, and without errors. For the expert user, the CMMT-AS plug-in provides access to all device parameters so that advanced optimizations can be made. And the CMMT-AS drive can be integrated into the program of Festo's CPX-E controller with just two clicks rather than the 100 or so it would take otherwise. After the drive has been connected to the controller on the screen by dragging a line, everything else, from the integration of the necessary libraries and the linking of process data to the transfer of important axis parameters is performed automatically. (With the optional CODESYS add-on, one can even use the Automation Suite software to perform the CPX-E motion control and robotics setup functions.)
New users in particular will appreciate the Automation Suite's commissioning wizard. It retrieves only the settings that are truly needed, ensuring that the drive system is operational quickly, easily and reliably. All it takes is five steps. The user selects the drive components, sets a few parameters, loads the device, switches it on – and the drive system works.
The software also offers fast, easy commissioning for another new Festo product – the ground-breaking CPX-AP-I remote I/O control module.
The Automation Suite and explanatory information about it and new products like the CMMT-AS and CMMT-ST servo drives that can be commissioned using it is available for downloading at https://www.festo.com/cms/en-ca_ca/68062.htm.