F31K2 Dual Inductive Sensor: The Highly Robust Solution for Valve Position Feedback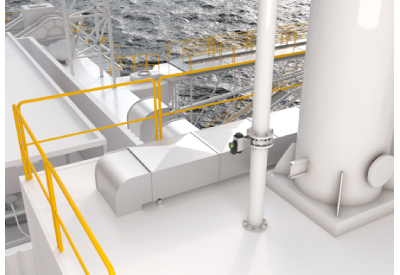 August 22, 2022
In the process industry, powerful sensors are needed to monitor the correct position of valves. Some outdoor applications, such as seawater desalination plants, oil rigs or phosphate mines, place special demands on the sensor technology used. With a particularly tight and corrosion-free housing, the F31K2 dual inductive sensor is the ideal solution for valve position feedback under such extreme conditions.
The optimized sensor series from Pepperl+Fuchs now also includes a non-intrinsically safe variant with IECEx approval for worldwide use in Zone 2/22 hazardous areas. In addition, a low-power variant enables simple modernization of existing systems with mechanical limit switches.
Extreme temperatures, salt water and UV radiation—the F31K2 dual sensor easily withstands the harsh environmental conditions on oil rigs.
Uncompromisingly Optimized for Outdoor Use
Whether heat or cold, salt water or UV radiation: due to its high robustness and durability, the F31K2 withstands even the most adverse outdoor conditions. Two separate inductive sensor elements enable noncontact and wear-free detection of the valve position. The high-density housing (up to IP69) makes the F31K2 insensitive to water and dust. The materials used—V4A stainless steel, high-performance plastics and coated aluminum—additionally protect the sensor against corrosion. With an extended temperature operating range of –40 to +70/+100 °C, the F31K2 can be used in extreme weather conditions without any problems. In addition, a protective cover is available to protect the actuator from mechanical damage and dirt.
A Wide Range of Variants for Increased Flexibility
The dual sensors of the F31K2 series are available with different approvals and electronic outputs. A special highlight is the 2-wire DC low-power variant: due to patented Pepperl+Fuchs technology, this dual inductive sensor has a virtually volt-free contact. As a result, the residual current is so low that the sensor can be used in combination with all programmable logic controllers and process control systems. This means that a modern inductive solution is also available for systems that previously relied on mechanical contacts.
In areas where explosive atmospheres rarely occur, the required explosion protection can be implemented particularly easily with the 2-/3-wire DC variants. The sensors are designed for use in Zone 2/22 in the Ex ec (increased safety) and Ex tc (protection by enclosure) types of protection with ATEX and IECEX certifications. Therefore, neither isolated switch amplifiers nor intrinsically safe wiring are required when using these devices. For hazardous areas up to Zone 0/20, the intrinsically safe NAMUR version of the F31K2 provides the appropriate ATEX and IECEx approvals. This variant of the dual inductive sensor can also be used in safety applications up to SIL 2.
Simple Mounting, Convenient Operation
The compact F31K2 dual sensor can be mounted directly on valve actuatorswithout additional accessories, making it particularly easy to install. A large terminal compartment with plug-in terminals provides additional convenience. Pepperl+Fuchs offers a selection of actuators in different sizes so that the F31K2 can be flexibly adapted to different drives. The portfolio also includes an actuator with a highly visible, colored valve position indicator: This makes it possible to see at first glance whether the valve is open or closed, even from a distance. The F31K2 therefore offers maximum convenience for valve position feedback in process plants.
A selection of activators in different sizes makes the F31K2 suitable for a wide range of applications.
Highlights of the F31K2 Dual Inductive Sensor
•Particularly durable and maintenance-free solution for valve position feedback due to noncontact, dual inductive sensor technology
•Highly sealed and corrosion-free housing—ideally suited for extremely demanding outdoor applications
•Extended application range: 2-wire low-power variant allows easy replacement of mechanical limit switches
•IECEx and ATEX certifications for worldwide use in hazardous areas, including Ex ec and Ex tc for Zone 2/22
•Modular design for maximum flexibility: activator variants for different actuator sizes, also with highly visible valve position indicator
To learn more about the F31K2 dual inductive sensor, click here