Configurable Modular Encoders for Stepper Motors from AutomationDirect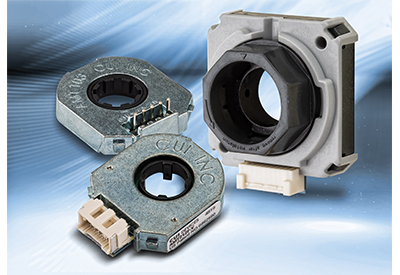 May 14, 2020
AMT series encoders from CUI Devices are advanced capacitive encoders with a variety of uses. AMT series encoders are typically mounted to the back of a stepper motor but can be used in many other applications. CUI offers the AMT series encoders with configurable pulses per revolution (PPR). The PPR can be set for most models using the free AMT Viewpoint software (the AMT10-series encoders are configured using DIP switches).
AMT series capacitive encoders are available for dual-shaft stepper motors in NEMA 14, 17, 23, and 34 sizes and for encoder retrofit on select SureStep integrated motor/drive models with external encoders. These incremental models offer line driver and push-pull output signals configurable up to 4096 ppr.
Starting at $24.25, AMT series encoders from AutomationDirect are CE approved and have a 1-year warranty.
Learn more by visiting: www.automationdirect.com/modular-encoders.