Endress+Hauser's enhanced flow measuring Picomag is an even smarter choice where size matters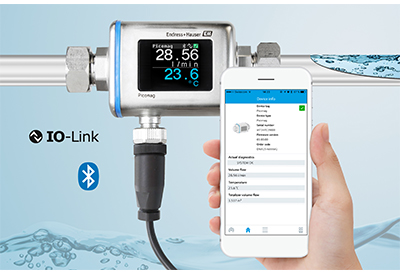 November 13, 2019
Endress+Hauser's extremely compact Picomag, already the gold standard in maintenance-free flow measurement, is now available with important enhancements such as temperature compensated conductivity measurement and an increase in measuring accuracy from ±2% to ±0.8%. The pocket-sized Picomag is a no-compromise solution that provides simple, reliable and maintenance-free measurement, whether the job is quantity measurement or process monitoring of cooling, warm or process water. This new generation Picomag also introduces other new customer benefits. It needs no inlet/outlet runs, so it can be mounted directly before or after pipe bends. Also, configuration data can be exported as a PDF for archiving in a computer or mobile device.
Picomag offers an intuitive operation in the field via Bluetooth and SmartBlue App for clear and fast configuration through a commissioning wizard. It has a user-friendly, auto-rotatable 1.4″ display, for automatic adjustment to the mounting position. With freely selectable I/Os, a customer can easily select analog or digital communications with IO-Link. IO-Link reduces the complexity and increases productivity with connecting simpler devices to any fieldbus system. Picomag is the first flowmeter from Endress+Hauser offering this technology.
Picomag comes in a range from DN 15 (1/2″) to DN 50 (2″) – and represents a cost-optimized solution for applications where the focus is on high repeatability (±0.2% o.f.s.) and reliable measured values – e.g. for correctly measuring water flows (max. 750 l/min / 198 gal/min) or for minimizing energy costs in utility applications. Picomag is suitable for process temperatures between –10 to (temporarily) +85 °C (14 to 185 °F) as well as for process pressures up to 16 bar (232 psi). With its small size and housing made of stainless steel (IP65/67), Picomag can be installed into any pipe up to 50 millimeters (2″) in diameter, even in confined spaces. Various process connection adapters are available, including NPT-thread, R-thread, internal thread, Tri-Clamp and Victaulic. The screen rotates automatically, depending on the installation position (horizontal, vertical) for optimal readability at all times.
The large display provides easy reading of flow, temperature, conductivity and totalizer values. Errors occurring during operations, like a partial pipe filling or an exceeded temperature limit, are displayed via diagnostic symbols in accordance with NAMUR recommendation NE107.
With Bluetooth connectivity, wireless configuration or data can be retrieved from as far as 10 metres – even at installation sites which are difficult to access. The SmartBlue App provides quick and easy navigation through all device and diagnostic functions.
The official press release can be found here.