PowerXL Series DM1 Variable Frequency Drive from Eaton
Next-generation drives for today's demands
January 18, 2023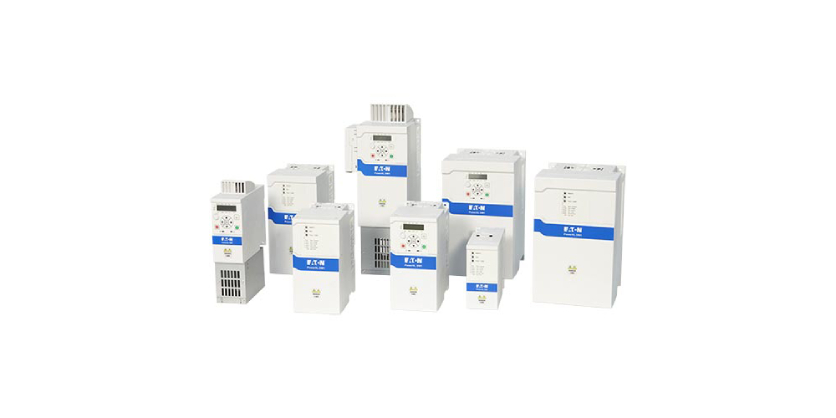 PowerXL Series DM1 Variable Frequency Drive. The DM1 and DM1 Pro microdrives are part of Eaton's next generation PowerXLE Series of adjustable frequency drives specifically engineered for today's more demanding commercial and industrial applications. The power unit makes use of the most sophisticated semiconductor technology and a highly modular construction that can be flexibly adapted to meet the customer's needs.
Eaton's Power XL DM1 micro variable frequency drives are engineered for today's demanding commercial and Machinery OEM applications. With an industry leading energy efficiency algorithm, high short-circuit current rating and robust design, the DM1 offers customers increased efficiency, safety and reliability, and features that improve integration and ease of use.
Features of the PowerXL Series DM1
Brake chopper standard
Dual overload ratings:
110% variable torque (IL )
150% constant torque (IH)
Drive can be powered by an external 24 Vdc supply to update firmware and parameters, and access fieldbus
IP20 rating for base drive, NEMAT Type 1 with optional accessory kit
Standard I/O:
4x DI, 1x AI, 1x AO
2x FC relays
Integrated input surge protection
On-board communication protocols:
DM1 and DM1 Pro: ModbusT RTU, Bluetooth
DM1 Pro only: EtherNet/IP, Modbus TCP, BACnet/IP, BACnet MS/TP
EMI/RFI filters optional on all drives—meets EMC Category C2
Seamless integration into EtherNet/IP networks via Add-On Instructions
SNTP time clock supports internet time stamping of faults
One expansion port for additional communication protocols as necessary
Remote graphic LCD display and keypad supports simple menu navigation as well as on-screen diagnostics and troubleshooting
LOCAL/REMOTE operation from keypad
Conformal-coated control and power boards standard
Safe Torque Off (STO) built-in with functional safety SIL2 Certification
Standards and certifications
IEC/EN 61800-5-1, Immunity: IEC/EN 61800-3, UL-61800-5, IEC/EN 61800-5-2,Category C2
cULT
ULT
CE
IEC 61508
C-Tick
EN 62061
RoHS
EN ISO 13849-1
EAC
Plenum rated
Software
Built-in web server to update firmware, program and commission the DM1 over an Ethernet network
Active Energy ControlT minimizes energy losses in your motor, resulting in industry-leading energy efficiency for your application
Quick Start Wizard upon initial power-up supports fast, easy installation
Standard applications:
Standard
Fan
Pump
Multipurpose
Copy/paste functionality on drive keypad allows for fast setup of multiple drives using remote keypad
Preprogrammed I/O supports fast, easy installation for most applications
Advanced PC Tool with diagnostic capabilities
More Information on the PowerXL Series DM1
Related Product
The PowerXL DE1 variable speed starter is a product that bridges the gap between a standard electromechanical starter and a variable frequency drive. With industry-leading ease-of-use and a narrow, compact housing, the DE1 is designed to be used in flexible applications with value propositions unique to each application.