Danfoss: Smart gloves improve working conditions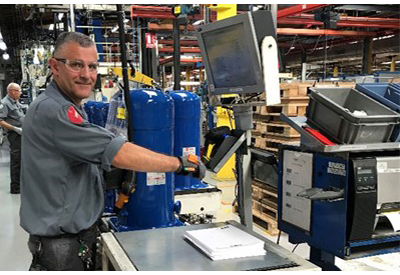 February 13, 2019
Noel Longere has been working at the Commercial Commercial plant in Trevoux, France, for 31 years. He is now in the packaging department, shipping the big blue compressors off to customers. As part of his job, in the old days he would pick up a scanner, then scan the compressor being shipped, leave the scanner in its place to move the compressor and take the scanner again.
But now he puts on a glove when he starts at work. And with this glove with an integrated scanner he only needs to move his arm close to the compressor. The result: he and his colleagues are able to work faster, safer and in a more ergonomically way since they can work and scan at the same time.
"These connected gloves are more convenient to use for us working in the packaging area. With the gloves our hands remain free to scan and move compressors using hoists. It is really a great improvement," he says.
The gloves are developed by the German startup company ProGlove. Commercial Compressors in Trevoux have so far bought four scanners and gloves, a total investment of a little more than 4,000 Euro. Damien Prost, FRCC DPP Navigator points out that the investment will be paid back in less than one year, since the operators are now able to handle the scanning process faster. Two seconds per scan does not sound as a lot, but it adds up on a yearly basis.
"And with this solution, the operators are at the center of Industry 4.0," he says.