Control Techniques: Commander C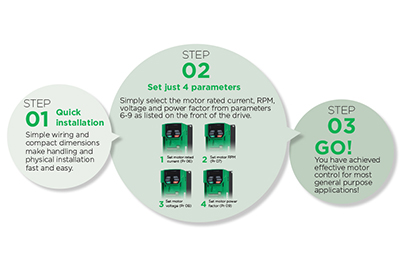 October 28, 2019
Commander variable speed drives have established a standard of excellence in motor control since 1983 when Control Techniques launched the first world commercial vector drive. Since then, Commander has undergone several successful reiterations, each time bringing new technology and innovations to the world of automation.
The new Commander C series has been designed to be a simple and compact AC motor speed controller that meets advanced requirements in a wide range of applications and provides optimum user experience.
Commander C Highlights
✓ Set just 4 parameters to get your drive started
✓ Plug-in options for advanced control
✓ Dual Safe Torque Off (STO)
✓ Equipped with the latest energy saving features
✓ Up to 180% overload for high torque applications
✓ On board PLC
✓ Straightforward installation and commissioning
✓ Easy motor pairing and performance control
✓ Robust and reliable design
Simple set up. 3 steps to control
Setting up a drive can require training, specialist knowledge and time.
Not with Commander C: it will get you up and running, from out of the box to controlling your motor, in minutes.
Three simple steps will set up your drive for most fan, pump, compressor, conveyor and general purpose applications!