Bosch Rexroth Sets New Standards for Safe Automation with ctrlX SAFETY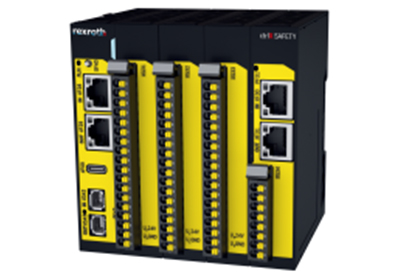 October 19, 2020
With ctrlX SAFETY, Bosch Rexroth introduces a novelty to the automation market: the most responsive and compact safety solution of its kind. The scalable system can be used as required – from the drive-integrated SafeMotion solution in ctrlX DRIVE to the complete ctrlX SAFETY control. In addition to the flexible use, the advantages include a very high level of safety thanks to the fastest reaction times and efficient engineering through graphical programming of the safety PLC.
ctrlX SAFETY is based on two components that can be used independently or as an overall system: SafeMotion and SafeLogic. The hardware is extremely compact and, as a safety control, its graphical programming allows the required programs to be created quickly and easily without extensive training. The intuitive engineering interface, a documentation-supported user guidance and ready-made dialogs for the acquisition of acceptance-relevant information enable significantly faster engineering than conventional solutions. For more demanding applications, the hardware can be extended by additional I/O modules via the safe fieldbus. It has flexible interfaces such as digital I/O, ctrlX SAFETYlink, Safety over EtherCAT (FSoE) and PROFIsafe (in preparation). The exchange of safe I/O signals between the safety control and the SafeMotion on the ctrlX DRIVE is performed via ctrlX SAFETYlink.
SafeMotion is based on the modular drive system ctrlX DRIVE and has a scalable software. It is available as an entry-level version, with extended functions or for the highest requirements. "SafeMotion brings safety functions exactly where the motion occurs: to the drive. It is therefore unmatched in speed. At the same time, this system allows a purely drive-based safety solution to be implemented completely independently of the higher-level control system," explains Steffen Winkler, Vice President Sales of the Business Unit Automation & Electrification Solutions at Bosch Rexroth.
Compact, lightning fast and adaptable – but safe
The overall result is the fastest and most compact safety solution on the market. ctrlX SAFETY is also characterized by its high adaptability. Steffen Winkler explains: "As a complete solution, SafeMotion and SafeLogic communicate via our ctrlX SAFETYlink. With it, a 5-10 times faster reaction than with safety-oriented protocols via classic field buses is possible. Together with local I/Os, the shortest processing times of 1 ms in the FastChannel task contribute to this. These features form the basis for highest protection and the compact design of safety devices."
ctrlX SAFETY allows for machine integration in the smallest installation space (thanks to shortened reaction times) and the integrated certified safety technology enables efficient machine acceptance. Once a safety solution has been planned, it can be integrated into different machine concepts without complex adaptation. As it supports the most common safe fieldbus protocols, ctrlX SAFETY can be integrated into almost any automation system, and modular safety strategies with safe cross communication can be realized.
"The user thus receives a solution tailored to his individual safety requirements with maximum flexibility and safety. The use of open standards and safe connectivity at all levels and the fast and versatile selection of safety functions complies with the principle of our open, integrated automation platform ctrlX AUTOMATION. ctrlX SAFETY enhances this established platform as a trend-setting safety system," says Steffen Winkler.