ABB's Water-Cooled Motors Deliver High Efficiency in Power-Dense Designs – See Them at OTC 2023
April 25, 2023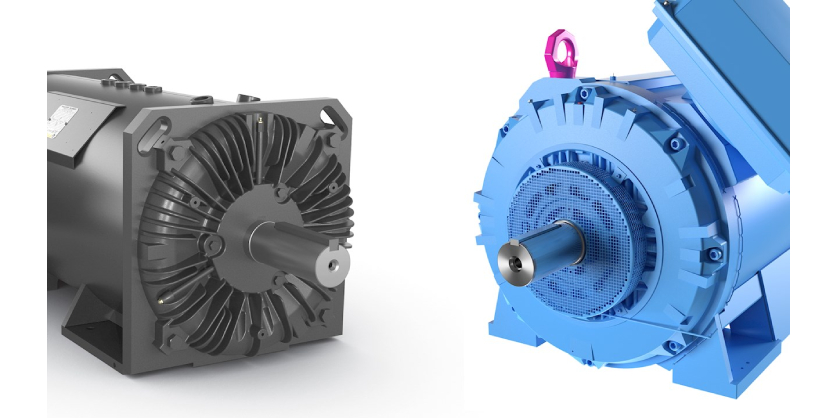 Highly efficient – IE3-IE5 efficiency and bearing protection
High power density – 50% higher rating than similarly sized motors
Low maintenance – Water-jacket cooling eliminates fans and filters
See these and other ABB solutions at OTC2023, booth #1928
ABB will showcase its solutions for demanding process applications at the Offshore Technology Conference (OTC), May 1-4 at NRG Park in Houston, Texas, USA. Visit ABB at booth #1928.
ABB's water-cooled motors represent a new generation of motor developed in response to market demands for improved technical features. Water-cooled motors are quiet, versatile and offer reduced maintenance and high performance in some of the toughest environments. Water-jacket cooling provides higher thermal conductivity than air cooling, helping to extend motor life while eliminating fans and air filters. Available with induction, synchronous reluctance (SynRM) or permanent magnet rotor technology, the motors can achieve high-efficiency (IE3-IE5) ratings for energy savings, and the power-dense designs deliver more power in a smaller footprint than similarly sized totally enclosed, fan-cooled motors. ABB's water-cooled motors provide versatility for extreme marine, chemical, oil and gas applications, among others.
"High power and torque density means water-cooled motors provide superior performance in a compact size, and since the cooling is built into the frame, there is no need for extra space around the motors for air flow," said Todd Huston, ABB's global segment manager for process industries. "These motors are quieter than comparable air-cooled motors and can achieve a high level of efficiency. Water-cooled motors deliver more performance and lower overall operating costs in a smaller physical footprint compared to similarly powered motors of other designs."

Todd Huston, ABB's Global Segment Manager for Process Industries
ABB's water-cooled motors are available in four NEMA frame sizes from 60-1,250 Hp/45-932 kW (HydroCool XT) and IEC frame sizes 280-500 with ratings from 120-2700 Hp/90-2,000 kW (M3LP). Cooling efficiency is maintained even at low speeds, allowing for direct-on-line or variable-speed operation without derating or power loss – ideal for constant-torque applications. Shaft grounding is standard, and like most ABB products, the company's water-cooled motors are equipped with provisions for ABB Ability™ Smart Sensor condition monitoring for instant motor health and performance information, providing connectivity and data analytics to make operations efficient, predictable and safe.
In addition to water-cooled motors, ABB will exhibit its top-drive drilling motors, IEEE 661XL, IEEE 841XL and IEEE 841 solid-shaft vertical P-base severe duty motors, the high-efficiency SynRM motor, ACS880 variable speed drive and ABB Ability Smart Sensor for condition monitoring.
More Information
Related Product
Scan the QR code to access 24/7 self-services
With ABB Access, you can unlock all aspects of your drives, motors, or PLCs, from one central location: the palm of your hand. Simply scan the QR code on the ABB product to get started.
ABB Access helps you easily find up-to-date product online data. It also provides easy access to documentation and manuals. If you happen to experience issues with your ABB product, this can be quickly and easily reported online to reach expert support from ABB.