Weidmuller's topGuard Electric Load Monitoring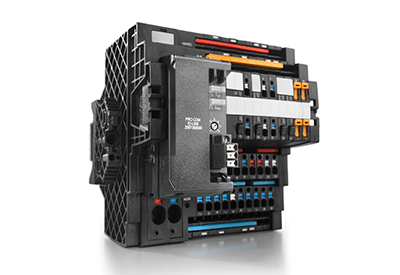 September 14, 2020
In industrial IoT, all the components of a production environment are interconnected via a digital infrastructure and must therefore be capable of communicating with each other – the power supplies included. This why Weidmüller's PROtop devices also feature the topGUARD load monitoring system and a plug-in communication interface. topGUARD is a modular electronic load output system comprising a feed-in module and several connected output modules. The output modules are available with both fixed and freely adjustable fuse ratings up to 12 A per module. Voltage-adaptive Class 2 load monitoring enables operating voltages of 18 V – 30 V DC to be consistently applied for the first time for NEC-compliant distribution. In the event of an overload or a short circuit, topGUARD will shut down the affected channel.
However, the highlight of the system is the communication module, which can be used to retrofit both the PROtop power supply as well as the topGUARD load monitoring system. The standardized IO-Link technology (IEC 61131-9) allows users to transmit data while also ensuring data transparency and providing remote-controlled operation of the topGUARD load monitoring. The communication module, for example, allows each module to be monitored for voltage and current output, as well as switching the individual channels on and off and resetting them in the event of a fault. The modules can also be parameterized directly via the controller. Operating data is recorded in an IODD file.
The communication module was designed as a retrofit solution and is simply plugged in. Changes to the actual power supply are unnecessary. Users can therefore start off with a classic system and expand it as and when required. Currently supported communication protocols are I/O-Link and CANopen with others in the planning. This means that operators can change their bus system whenever they wish with minimum effort, but more importantly it allows them to create a truly end-to-end communication structure.
Communication-enabled load monitoring offers remote control options, provides operating data for optimal status monitoring and enables the 24/48 V system to be reliably monitored and protected. This intelligent networking between machine, control cabinet and IT system opens up completely new control, monitoring and analysis solutions. With its communication-enabled load monitoring system topGUARD, Weidmüller is giving machine and system operators the ability to develop new services for diagnosing and optimizing their processes for the first time. Simply put, the system generates added value from machine data.
topGUARD makes selective circuit protection fit for digitization as the modules enable process data to be transferred to to a higher-level control system. This ensures networking with other system components. The power supply or load monitoring system can be controlled remotely and integrated into the condition monitoring system, thereby reducing power consumption and the planning of maintenance work. This significantly increases the functional reliability and profitability of a wide range of systems – such as food and packaging systems in 24/7 operation as well as hard-to-reach offshore wind farms.