Stephanie Medeiros on Volunteering Abroad and Promoting Gender Diversity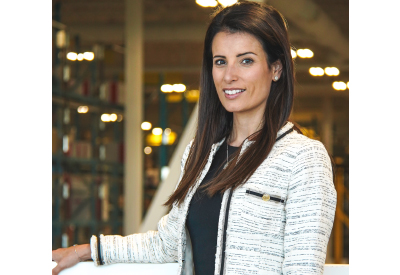 August 9, 2019
By Blake Marchand
Stephanie Medeiros leads ABB Canada's Electric Vehicle Charging Infrastructure team, as well as transit bus charging in the United States and Canada. She has been with ABB in various positions for 10-years, compiling a diverse skillset that includes work all over the world.
After receiving a degree in Electrical Engineering from McGill University, Medeiros got her start in the industry out of school volunteering with the Canadian Government as an Electrical Engineering intern, during which time she traveled to Peru to help improve their water treatment infrastructure. The experience was an invaluable one for Medeiros, ultimately teaching her a great deal about leadership and giving her perspective on what leadership looks like in another culture.
"As soon as I graduated, I thought it was really important to take some time off and use the skills that I learnt to do something good," said Medeiros. "I was sent to different cities in Peru to optimize their DC circuit for their electric supply, but with the intent on improving their drinking water supply. The majority of cities in Peru got their water from underground wells. So, they had systems of DC motors and pumps to get that water from underground."
Medeiros explained that, because the towns were in remote locations, they didn't have access to electrical engineers on a regular basis. As a result, their systems were ill-equipped to meet the demand of the towns and villages. "A lot of villages that I went to only had drinking water supply for two hours a day because their systems weren't optimized."
"My task was, basically, to go to each of these cities and use the skills I learned as an electrical engineer and my knowledge of DC motors to optimize these circuits. The goal was to increase the water access from two hours a day to 12-hours."
The work was fulfilling from a humanitarian perspective, but it also provided Stephanie with a great deal of quality experience. In terms of technical experience optimizing these systems, but also with respect to leadership and management. The fact that she was young, and a woman made it challenging to prove herself as an expert in these communities. "Every town that I would go to, the first week or so was challenging," she explained, "Basically, I was supposed to be the expert. There were some tests I would have to do that I couldn't do myself, so I was given labourers to work with and every town I had start all over again to prove myself," she said, adding, "some of the towns were more reluctant to listen to me."
It took a certain level of patience on her part and to convince them to trust her expertise. Despite the challenge it was a positive and enriching experience. "I learnt a lot about myself and leadership," she noted.
"Experiences such as this is really an intensive crash course. Whenever I go to a new country, and especially countries or cultures that aren't used to seeing women in the workforce, you have no choice but to find creative ways to make it work."
Following her trip, she landed a job with ABB as a Project Engineer working out of Montreal.
Her work as a Project Engineer included designing and commissioning components of substations. A particularly interesting role for Stephanie because it was a highly technical job. Given the point she was at, coming into her first job as an engineer, it allowed her to build off the work she did in Peru and develop a strong technical foundation doing field work across Canada.
Medeiros would eventually move into a product management role, again out of Montreal. Although the job would take her abroad as well, living and working in other countries was interesting professionally and personally, offering her a greater appreciation for other cultures, because she was able to experience them firsthand.
Currently, Medeiros is leading ABB's Electric Vehicle Charging Infrastructure team for Canada, and in the United States she leads electric infrastructure for transit buses.
Overall, Medeiros is optimistic about the current state of EVs and EV charging infrastructure in Canada. The landscape Canada presents is prime for fostering the EV industry, and it is an exciting time to be immersed in the industry.
"It's going to happen sooner than you think," she added, referring to a more wide-spread adoption of EV transport.
The SAE (Society of Automotive Engineers), for example, will be coming out with a new standard for overhead bus charging that will have enormous implications on the direction of the industry. A standard that ABB, and Stephanie herself, had a part in developing.
"For me this is very exciting because this is the future of e-mobility and I have been able to contribute to the larger initiative that makes up the new standard for overhead bus charging," she said, adding, "because this is a new industry it's going to move super fast once we get past this tipping point, you're going to see an increase in electric cars and electric busses."
"Transportation is a very large contributor to CO2 emissions, so we have to find ways to decrease it," she said, "electrifying transport… that's key and will go along way."
Reducing CO2 emissions is clearly a highly pressing issue. Transportation, as Stephanie alludes to, accounts for approximately 15% of carbon dioxide emissions world wide. In light of reports like Canada's Changing Climate Report and IPCC Global Warming Special Report, we have to commit to reducing emissions considerably to protect the planet and our ability to live on it. Making the transition to EVs is critical, alongside increasing renewable energy sources, reducing emissions in manufacturing, and so on.
Medeiros noted she has diverse team working with her, which is certainly an asset.
"In this ever changing landscape, it's really important to think outside the box," she said, "so having teams like the ABB Canada EV Charging Infrastructure team that are really diverse, everyone comes in with valuable view points that are outside of the box and it definitely helps in this landscape."
With respect to individual projects she has worked on, Stephanie said there are many unique and interesting projects. However, she wanted to highlight an ABB Canada program she co-founded called the Excelle Group.
The Excelle Group promotes gender diversity at ABB Canada by putting on small and large events involving guest speakers, panel discussions with women across various industries, guided discussions and networking. Medeiros said ABB Canada's Human Resources department has a lot of great initiatives to support woman in STEM (Science, Technology, Engineering, Mathematics), and "the Excelle Group is a means to work alongside these HR initiatives and to continue this important discussion."
As a woman in STEM, Medeiros has experienced the challenges women face in the workplace firsthand. Without a support system of people with shared experiences, it's easy to lose confidence and become discouraged.
"I felt alone sometimes early in my career," she said, to a point where she would question her ability. "Those thoughts definitely happen, so I don't want any woman – or man, because I know this happens to men, as well – to feel they are alone because they are minority in their field."
"Just hearing other people's stories and connecting with people gives them that extra push."
Medeiros noted ABB Canada has many women in leadership roles, starting with their President, Nathalie Pilon, "Nathalie is a great role model for many in a STEM company, and even in other industries," she said, because there certainly is cross-over to the challenges women face.
Thus far, Medeiros has established a high pedigree. Not only as a woman succeeding in a leading technology company, but as a leader that has carved out an impressive career in a rapidly changing industry, she is a fantastic role model for any young professional. From volunteering in remote Peru villages, working in the Middle East, developing standards with international organizations, to promoting gender diversity and inclusion; she has led an incredible career already, showing tremendous ambition, expertise, and leadership.
Photo credit: Marc-Andre Pichette, ABB