PULS Awarded as MINT Minded Company 2022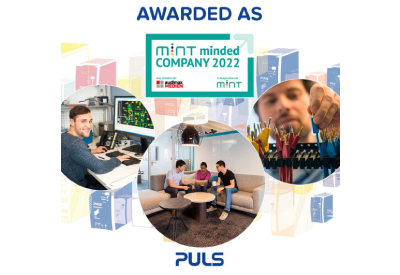 March 29, 2022
Development and innovation are important factors for PULS to ensure the company's success in the long term. This includes the support of engineers, young talents and graduates in the STEM field.
The support of young STEM talents is also the goal of the "MINT Minded Company" initiative, which was launched by audimax MEDIEN GmbH together with "MINT Zukunft schaffen". The initiative honours companies that are particularly committed to promoting STEM talents – like PULS does.
The nomination for this award is made purely from the target group of STEM students, STEM graduates and STEM talents. The award cannot be purchased, which makes it even more valuable.
Are you a STEM student and looking for an employer for an internship, a thesis or as a career start?
Then take a look at our current vacancies and become a part of our team! Career opportunities