Control Systems Engineer, Chris Beharrell and his Newly Formed Company, Exceed Electrical Engineering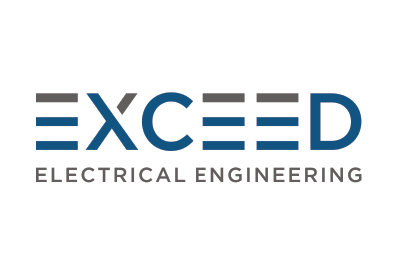 August 15, 2019
By Blake Marchand
Chris Beharrell is a Control Systems Engineer for Exceed Electrical Engineering, a company he founded earlier this year along with Joshua Laye. Beharrell and Laye, a business-savy Mechanical Engineer, met while in school and have been friends for nearly 15-years, making it an idea partnership.
Beharrell earned his Bachelor of Engineering in Electrical and Electronics from the British Columbia Institute of Technology (BCIT). He began working in his field while still in school designing PCB circuit boards for hydraulic control systems on mobile industrial and excavating equipment.
"BCIT is awesome because, for all the stuff you learn in theory in electricity you actually get to make in the lab, so that was right up my alley," he noted, which no doubt played into his ability to hit the ground running with his career once he earned his degree.
"I was raised by a family with a farming background so I'm a very hands-on person, throughout my life I've always had a natural curiosity for electronics and electricity so that kind of steered me toward an electrical engineering career path," said Chris on why he decided to enter the industry. And he certainly hasn't wasted any time, after just six years as an electrical engineer he has struck out with his own firm along with Laye.
Beharrell went from designing embedded systems to the engineering and consulting sector as a Control Systems Engineer.
"Naturally because of my electronics background I thought that being a control systems engineer would be really suited to me, so I steered my career down the control systems path," he explained, "PLC programming, SCADA, drive configurations, network set up; so, that's what I started doing and getting good at."
When Panel Builder & Systems Integrator caught up with Mr. Beharrell, he was just two weeks into his new firm, Exceed Electrical Engineering. "Honestly, the first two weeks I've been swapped and the community support I've been getting has just been overwhelming, I'm really grateful for it."
Beharrell has spent the whole of his career working out Kamloops, BC, and it seems as though he has carved a solid name for himself in the local industry. Striking out on these types of ventures involves a considerable amount of risk. It can be difficult to establish a solid customer base out of the gate, although it bodes well that Exceed has hit the ground running.
"I've done some really neat projects over the years, and I think that's why clients continue to work with me, because they know what I'm capable of doing," he said.
"It was nerve-wracking, I'll be honest, I'm not a natural businessperson. I'm an engineer I love the technical side of it, the business side just made me nervous," he said, "luckily I have a great partner that enjoys the business part of it, so I think it's going to work out great."
One issue that can hamper contractors and consultants coming from a technical background is neglecting the business aspects of the industry. To be successful in a competitive landscape you need a clear business plan, along with the expertise to carry out the work.
Beharrell said Exceed is still focused on the type of work he was doing in previous roles, control systems design, industrial networking and security, and electric distribution up 650 volts, covering industrial, commercial, and municipal.
What went into the decision to start your own firm?
"For me, a big part of it was a lifestyle choice, having a little more flexibility in my time," he said," it's always been a dream of mine to have my own company, to see what it takes."
Beharrell is a person that thrives in high pressure situations, which bodes well for his profession, but also as a new small business owner.
"I wouldn't say it was any easy task, three months ago our third daughter was born, and we closed on our new house six weeks ago."
"We have a name out there, and I think it's the name that has sold people to want to work with us. It's going to be successful for that reason," said Beharrell, which provides good lesson for young professionals making their way through the industry. Through his work in his previous positions, Beharrell has made a good impression in his local industry. From speaking with Chris, it is easy to tell he has a passion for his work, and a passion for doing that work at a high level. Ensuring the work is done right and clients are satisfied can go a long way in helping you build contacts and relationships in the industry. Which, ultimately, fosters opportunity.
"Our goal is to do high-quality, good work for a fair price."
Interesting Projects
Thus far, Exceed has done work in the mining industry, ore processing, as well as in the municipal sector with water and wastewater systems.
"What I specialize in is control systems, I'm big into redundancy and hot standbys, I've done a bunch of hot standby PLC systems, I've done centrifuge drive conversions with DC bus sharing, a lot of really neat technical stuff," explained Beharrell.
"I really find myself excelling in the high-pressure environments, where there's production and there's risk of downtime. A lot of other consultants can be trepidations in those environments, but I love it, I feed off that stuff," he added, "I think that's why clients like working with me because they know I can get the job done without compromising their production."
"That's the fun part and that's what really sells our quality of work– is being able to those high stress shutdowns."
With respect to specific projects, Beharrell recalled a modernization project he did as a Control Systems Engineer with his previous company, "I modernized a dissolved air flotation (DAF) process in a water plant. It had a really old PLC that was put in in the late 90's, and I upgraded that to an M580. I converted the program and had the thing running within four hours with a new HMI, new PLC and programming," he explained, which was a project they did in the middle of production. They were able to take the DAF offline and get it up and running within hours, minimizing downtime and leaving a satisfied customer.
"Doing a modernization to an existing architecture is a challenge in itself, because there's a lot of 'gotchas' and things you have to be wary about. Being able to do that efficiently is something we're good at."
When you are taking old technologies and upgrading them it isn't quite as straightforward as commissioning a brand-new project. Particularly when it comes to the timeframe of the project, there is a little more room to troubleshoot. When doing greenfield projects there's generally an extended time frame, "when you're doing a brownfield upgrade the system's already running, so you have to make sure it integrates right with everything existing," he said, "that's the challenge."
Beharrell added when doing these types of upgrades, they also focus on network redundancies and network security. Which has become a key component of the industry and typically gives clients peace of mind – knowing they have protections in place ensuring their assets secure.
"I'd say about 5-years ago when Ethernet started rolling out substantially in industrial environments, security was really an afterthought, especially in the industrial arena," explained Beharrell, "but now with all these hacks, you look at the Stuxnet virus that took up the centrifuges in Iran, you look at all the ransomware going around, you look at peoples SCADA computers and they're searching Facebook on it, who knows what they're downloading; network security is very important."
Typically, the stakes are high when it comes to SCADA systems potentially becoming compromised, "especially when it's a municipal water system," he added, "where they can turn on chlorine injection pumps, or turn off UV. It's all about public safety when it comes down to it."
Tech Trends
With respect to new technologies that have had a major impact on the controls industry, Beharrell observed the emergence of ethernet, which has really streamlined processes for end-users. Reducing contractor labour, for example, connecting the various starters and motors to a PLC with just one cable, "you can take all the discrete I/O – we're talking tons of cable, 6 or 8 conductors per drive, and pick up that whole section with one ethernet cable," he explained, connecting it back to the PLC while also generating more data than ever before.
"It helps cut down on contractor labour, it helps reduce costs, and the client gets a better product."
However, with that comes security risks. Beharrell noted they will take some time to train the electricians and maintenance staff in the plant so they can troubleshoot when there is ethernet issues, which is something they take seriously.
Operator interfaces have also come a long way, and Beharrell noted goes back to ISA's high-performance HMI/situational graphics standard. In the past, HMIs were almost too colourful making it difficult to determine when or if there was an issue.
"Colours like red and orange should only be on the screen when there's a problem," he explained, "because that's the first thing your eye will be drawn to."
Situational awareness graphics are also helpful as an added safety measure. "If you use a relativistic graphic, like a bar graph for instance, if it's within your limit you know your safe, or if it's at the top of the bar-graph, you know something's wrong," he said, sometimes you can't tell if it's just a number, unless you're really a senior plant operator."
Panel Builder & System Integrator asked Mr. Beharrell if there were any emerging technologies he found interesting, or that he could see as becoming more prominent in the future. He mentioned augmented reality as something that could be useful from a maintenance perspective, particularly in scenarios that involved safety risks.
"If you're standing in front of an MCC with a motor starter, you got arc flash dangers, right, but say you want to look inside to see what's in the bucket, you just take your iPad with your camera, aim it at the bucket and the augmented reality program shows you what's inside," he explained, "you can open data sheets for the starters and relays, learn all about it, and troubleshoot without even touching it, which I think is really neat."
"It hasn't really caught on yet," he noted, "but I see the need for it."
Do you have any advice for young people considering a career in the industry?
Beharrell said it's certainly beneficial to focus on programming, because its very transferable. "If you have that logic mindset, you'll do well."
"I think there's a growing need for automation and control engineers. As factories get bigger and more complex, there's going to be less manual intervention from operators and more through PLCs."
Exceed Electrical Engineering
Currently, Exceed is a three man operation, "but we're planning on growing fairly aggressively," Beharrell noted.
As it was alluded to above, Exceed's services include industrial, municipal, and commercial sectors, including, control systems: hot standby PLC systems, high performance HMI design, plant modernization; industrial networking: redundant ring networks, fiber and radio communications, firewalls and security; electrical distribution: intelligent MCC design, building circuiting and load calculations, and electrical service coordination.
Exceed operates out of Kamloops, BC, but their reach extends throughout British Columbia.
Visit their website for more information: www.exceedeng.com