WECO's 100th Anniversary – WECO Connects the Past to a Brighter Future
July 28, 2023
WECO Connects the Past to a Brighter Future
Since the very beginning of WECO's activities, their innovative ideas had one common need: connectivity. As shown in the previous chapter of WECO's history, the company's founders Eugen Ebbinghaus and Rudolf Wester developed, patented, and manufactured a jacket clamp as a connecting element for electrical installations. This innovative idea and the company's founding have marked the beginning of a success story.
WECO was the first connector company to use thermoplastics in the design and manufacturing of coupling and splicing connectors. Over the years we have developed exclusive connector designs for use in most industries, from switching and control panels used in power plants to controls used in manufacturing, automotive, and appliances. WECO's products are also present in petrochemical process plants, pharmaceutical, and computer technology.
In this chapter of WECO's history, you will learn more about a product that was essential to the company's initial activities: lighting. You will know how the technological journey has evolved until today, and how the past still inspires them to bring new ideas to life.
With Pioneering Technology in Its Segment of Activity, Weco's Products Were Key for Many Industries
Looking back in time, British inventors were demonstrating that electric light was possible with the arc lamp. In 1835, the first constant electric light was demonstrated, and for the next 40 years, scientists around the world worked on the incandescent lamp up until Thomas Edison patented the first incandescent bulb in 1879 and commercialized it a year later.
WECO has made a major contribution to the field of lighting technology with its junction box terminals. With a patent issued in 1922, these metal mantle terminals were primarily valuable for securing power cables. The original design consisted of a ceramic base as an insulator, and screw terminals attached the wire conductors. In addition, their proven and highly reliable design is still in use today.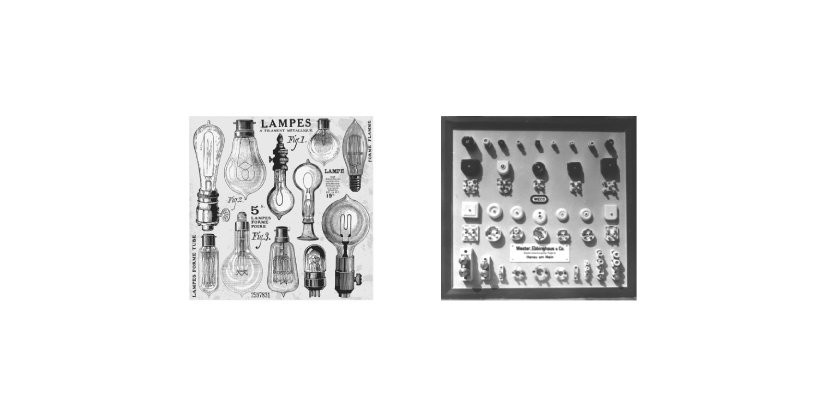 Over the years, enhanced materials and manufacturing processes improved the screw terminal. The original ceramic insulator was replaced Bakelite in the 1920's, as it was more impact resistant, then further improvements were introduced with different plastics as these could be molded to resist higher temperatures, have improved flammability, be UV resistant and meet the most demanding environmental conditions. Progress in metal forming allowed new innovations, including connecting terminals in a screw or screwless technology.
WECO's screw terminals have proven reliable and eventually migrated from Thomas Edison's original carbon filament lamp to Neon and fluorescent tubes and now to LEDs.
WECO currently sells over a million connectors to the lighting industry, all of which attest to the resilience and reliability of their brand. Their company is dedicated to Green Energy initiatives, as WECO provides connectors used in most LED lighting applications. Our connectors are found in advanced outdoor, roadway, infrastructure, and indoor LED lighting products WECO is committed to lighting a green future!
Although their operational capacity has increased and diversified, the strength of their values remains the same as that of the engineering company that began its activities 100 years ago. Their keen eye for their customers' needs and their role as partners, not just suppliers, have brought them this far and keep driving their decisions.
They believe that the role of engineering is to adapt to the needs of a changing world, so creative solutions, operational excellence and customer service will always be WECO's highest priorities. These have been their priorities for 100 years and will always be.
Next week you will get to know how WECO successfully innovated the energy industry and met the challenges of the next decade. Stay tuned.
Related Story
WECO Celebrates 100 Years of History
2021 marks WECO's 100th Anniversary. While they are incredibly proud of this achievement because few companies reach this significant milestone, they are humbled to continue to be one of the global leaders in this field of expertise. It has been an exciting journey, one that was made possible with the support of everyone, their dedicated employees, their partners, their suppliers, and their loyal customers. With this deep appreciation, WECO enters the next 100 years.