ABB and Pace CCS Partner to Drive Carbon Capture and Storage Growth
ABB and Pace CCS join forces to deliver a solution that reduces the cost of integrating carbon capture and storage (CCS) into new and existing industrial operations
March 1, 2023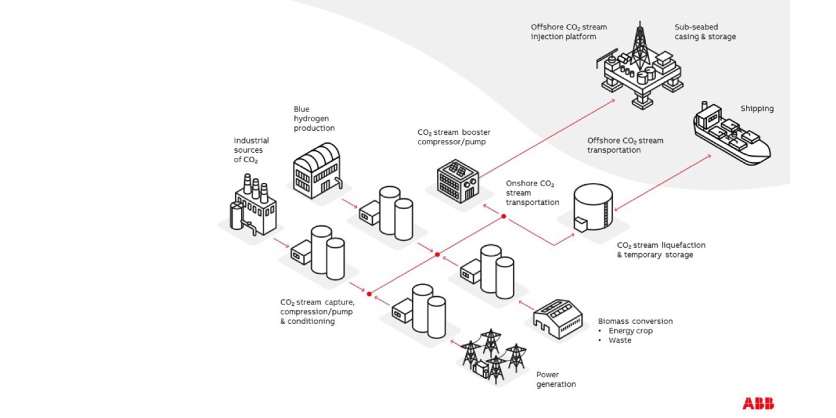 ABB and Pace CCS join forces to deliver a solution that reduces the cost of integrating carbon capture and storage (CCS) into new and existing industrial operations
Customers will be able to harness digital twin technology to test proof of concept, explore scenarios and map out operational models across complex CCS infrastructure
Reducing the cost of investment and derisking operations will be critical in enabling the commercial CCS market to scale
Working to make the capture, transportation and storage of industrial carbon dioxide emissions more accessible, ABB has signed a partnership agreement with Pace CCS, a global leader in engineering solutions for this market.
Together, the two companies will apply their respective expertise to make it easier for industrial companies to implement CCS infrastructure by lowering the CAPEX and operational investment required to enter this market.
CCS involves capturing carbon dioxide (CO2) emissions from industrial processes and then transporting these from where it was produced, via ship or in a pipeline, to be stored underground. For countries to achieve their net-zero commitments, uptake by industry needs to grow 120-fold by 2050, according to McKinsey & Company analysis1. If successful, CCS alone could be responsible for reducing carbon emissions generated by the industrial sector by 45 percent.
"To date one of the biggest challenges to the mainstream adoption of CCS has been a lack of operational practice across the full value chain, but the combined expertise of ABB and Pace CCS can change this," said Matt Healey, Chief Executive Officer of Pace CCS. "While companies can see the benefits of CCS, there is still a reluctance to make the investment without clear knowledge of how things will work on the ground, at every stage of the process."

Matt Healey, Chief Executive Officer of Pace CCS
The ABB and Pace CCS partnership will address this through use of digital twin technology, which provides a virtual replica of a real, physical process or facility. The technology simulates the design stage and tests scenarios to deliver proof of concept to ensure the design is fit for purpose. This will demonstrate to customers how they can smoothly transition into CCS operations. The solution will map out various scenarios, including subsurface modelling, and will incorporate ABB Ability™ OPTIMAX® energy management system to forecast and manage power consumption.
"Carbon capture and storage is a critical component in accelerating the global decarbonization agenda. While we add new, renewable energy sources into the mix, we will still need to access traditional energy infrastructure," said Brandon Spencer, President of ABB Energy Industries. "We need to make these more sustainable, minimizing emissions, and this can be achieved by taking the carbon dioxide they produce out of the atmosphere and into the ground for storage."

Brandon Spencer, President of ABB Energy Industries
ABB is committed to driving industrial energy efficiency, helping its customers reduce their annual carbon emissions by at least 100 megatons by 2030.
Related Story
Recently, ABB published the first in a series of new reports for the energy and wastewater sectors to highlight the impact that technology can have in enabling industrial customers to reduce carbon emissions and manage the energy transition for a more sustainable future.
With the United Nations predicting a 40 percent water deficit by 20404, ABB has conducted research to reveal how better use of wastewater could relieve pressure on water supplies. When treated effectively, wastewater can be returned to the water cycle for reuse, proving a valuable but often untapped resource in tackling water scarcity. Importantly, it also lowers the levels of untreated sewage pumped into rivers and oceans, which have hugely negative impacts on public health, the environment and marine life.