How To Choose the Right Electrical Transformer?
April 18, 2023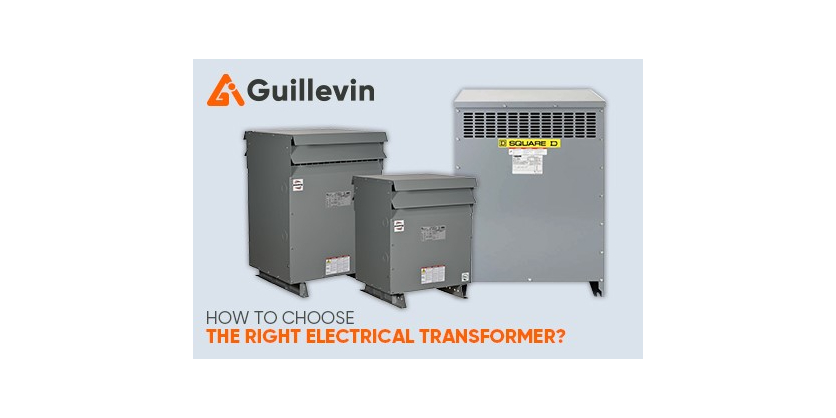 Are you looking for the transformer that best meets your needs but are hesitating among the different types of products on the market? Guillevin's experts present the four major families of electrical transformers available, and invite you to explore the different options available to you.
How to choose the right electrical transformer?
An integral part of our daily lives since the beginning of the 20th century, electrical transformers have become essential, in particular for transforming the voltage of the distribution network to a voltage more appropriate for users.
If they are generally composed of a laminated iron core, copper or aluminum windings, insulation and a case, they come in 4 main families of electrical transformers:
control transformers,
general purpose transformers
specialized processors
power transformers
How to choose the electrical transformer that meets your needs? Here is an overview of the different offers on the market.
Electrical control transformers
What is their scope?
Mainly used in industrial environments, control transformers are used to power equipment requiring small loads at lower voltages (120v to 12v).
They are available in three types of protection:
open transformers, particularly useful to be installed in a larger box with other components.
closed transformers: these are used alone outside existing equipment.
encapsulated transformers, usually dipped in epoxy to protect them from water or outside elements such as snow, oil or dust. Generally. their windings are made of copper.
What electrical control transformers are available on the market?
Many products are available in the market . The main manufacturers are: Schneider Electric, Hammond Power Solutions, Marcus Transformer, NSi Industries LLC, Hammond.
Some of the most popular electrical control transformers include:
General Purpose Electrical Transformers
What is their scope?
Used to reduce the distribution voltage (600V) to lower voltages (120/240, 120/208), this is the most common type of electrical transformer. They are particularly suitable for commercial and industrial buildings.
Available in aluminum and copper coil, they are available single phase and three phase. There are thus several product offers in this range of electrical transformers. The most common are commercial-grade transformers, auto-transformers, and epoxy-encapsulated transformers.
What are the general purpose electrical transformers available in the market?
Like electrical control transformers, there are many general-purpose electrical transformers on the market . They are offered by several manufacturers including: Bemag Transformer, Hammond Power Solutions, Marcus Transformer, Rex Power Magnetics, Schneider Electric.
Some of the most popular electrical control transformers on the market include:
Specialized electrical transformers
Over the past 30 years, the use of electricity has evolved considerably. With the use of electronic components, a new range of transformers has been developed to meet these new challenges.
This is where specialized processors come in. Whether for harmonics, overvoltages, electrical noise or power interruptions, specialized transformers are designed to meet this type of challenge. In particular, this range includes transformers with K factor, isolation transformers, transformers for variable speed drives and line chokes.
What are the specialized electrical transformers available in the market?
As their name suggests, specialty processors meet very specific needs. Due to their different types of applications, these transformers are tailor-made.
Are you looking for a specialized transformer? The experts at Guillevin will be happy to guide you towards the best solution to carry out your project.
Power transformers. What is their scope?
Power transformers are designed for medium voltage applications, and mainly used for industrial, commercial, heavy and institutional applications.
Designed according to application requirements, this kind of transformer is also custom made according to customer requirements. If you are looking for the ideal solution.

Hammond Powers Solutions and Rex Power Magnetics are also popular suppliers for this type of custom transformer.
What are the installation differences between different electrical transformers?
There is no clear answer to this question, as the installation can vary according to the standards of the national electrical code, regional codes or even the manufacturer's recommendations.

The common point concerning the installation of the various transformers? A good electrical knowledge is necessary and this must be done by an expert.

Looking for a transformer that best meets your needs. Guillevin offers a wide range of electrical transformers, and also custom transformers. If you need advice to guide your choice, you can contact their experts. They will be happy to help you find the ideal solution.
Related Story
Guillevin Automation began in Quebec, Canada. They have been a group since 1983. There are four branches in Canada that span from coast to coast. There is the Pacific branch in British Columbia, another serves Alberta, Saskatchewan, and Manitoba. Then there is the Ontario branch which supports the East region. The East region has 25 electrical branches, with locations in Quebec, Ontario, Ottawa, and Cornwall. Guillevin supports all these branches and are there to help their customers with over 40 decades of know-how.