Brother PT-E300VP Industrial Labeller – Peer Tested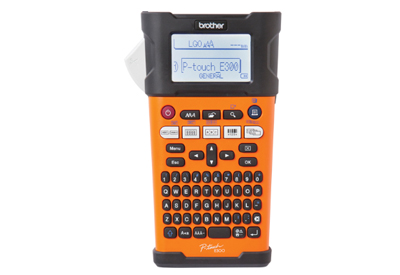 November 28, 2019
Anyone working in the electrical industry knows the importance of labelling for both safety and organization. But at times it can also be an additional step that can take time and possibly different products, or labelers need for various jobs or applications. However, Brother's PT-E300VP Industrial labeller is a versatile label printer that provides all the necessary labelling needs to anyone industrial electrician.
But don't take it from us, hear what your peers had to say when they were provided the opportunity to test one of the versatile labelers. The Brother P-Touch E300VP Industrial Labeller was provided to a lead industrial electrician at a local Ontario Automotive OEM plant. The facility has been in operation for numerous years and operates both legacy systems and modern automation upgrades.
The electrician allowed product testing to be carried out by all electrical maintenance staff as well as electrical engineers across 3 shifts. In this way the product was tested directly by the lead electrician as well as the plant's veteran electrical staff and younger electricians.
The labeller was typically used by each shift in waves, meaning labels are not produced necessarily every shift, but when labeling time comes, they are required to make a lot in a short period of time. In this respect they found the Brother labeller was very fast and responsive (the internal software and computing power was sufficient) and did not require electricians to waste time waiting on labels to be created. The labeler was tested in a variety of applications including control wiring, labelling of disconnects, breaker panels and for general organization labels. The ability to print in a variety of colours and on various materials aided in timesaving for staff and provided options that had previously not been available within this facility.
Comments were also made regarding the robust nature of the unit, which had a sturdy, rugged feel which provided a sense of confidence in using the product, particularly in dirty and hazardous locations. The unit is question was used throughout the plant and was subjected to substantial quantities of dust and corrosive atmospheres, none of which affected its performance. And the bright colour was also an identified advantage as over time the unit will inevitably become quite dirty and being able to identify its location when put down during maintenance tasks was appreciated.
The ability to access YouTube videos on the various functions and operations of the labeller also provided a unique approach to learning and providing time-saving instruction for the unit.
Beyond the general conversation with the lead electrician regarding the product there were a few direct Q&A questions that were fielded to all staff that used the product. Below are their comments to these questions.
Q: From first turning on the product how user-friendly was it for initial use?
A: Very simple and straight forward to begin using. When compared to other label makers that we've used the Brother is easy to setup which allows for us to get to know the machine much faster.
Q: What features have proved beneficial to your applications?
A: The ability to change label format and/or type of label is what sticks out most to us so far. Whether it be to label control wires, main disconnects or breaker panels, the Brother labeler's simplicity allows for easy transition from job to job.
The heat shrink labels are something we haven't seen before but will definitely come in handy when the right job comes up, which we hope is soon as we are excited to try this feature as the advantages and time saving would be valuable to our staff and operational efficiency.
Q: Were there any issues or difficulties when using the product?
A: I would say getting familiar with what each button does. The Brother labeller seems to be capable of a lot but like most machines it requires some use to become familiar with its operation.
With that being said it is still an easy machine to use and because of that we find it gets used more often than label makers we have previously worked with. There has been a hesitancy in the past to reach for our older printer, however even those with hesitancy toward using a labeller have found that using the Brother Industrial Labeller provided an ease of use for users, and the quality of the labels was consistent.
Further, and as has been mentioned, the labeller easily moved between jobs. This was valuable as we have numerous electrical staff that require access to the labeller across multiple shifts, and the ability to flow from job to job was an asset.
Q: If someone else in your field asked you about the product in a neutral setting what would you say about it?
A: It's a great label maker. Allows for proper organization of electrical panels in a timely fashion. Easy to use and become familiar with.
Q: Any other general remarks about it you would like to make
A: Used in a variety of applications (control wiring, labeling of disconnects, breaker panels, general organization). Used in dusty and corrosive atmosphere
For more information on the PT-E300VP Industrial Labeller visit Brother