Speed/Standstill Safety Relay Modules from AutomationDirect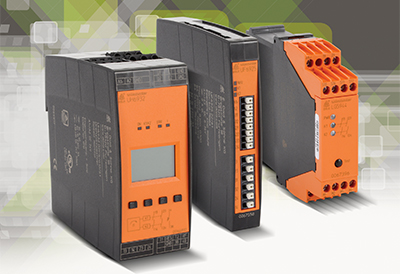 April 25, 2019
Safety relay modules consist of safety relays that are controlled by built-in monitoring functions and assure a reliable opening and closing for safety applications. Safety relay modules provide a high level of fail-safe operation for critical processes and protection.
These speed safety relays provide overspeed, under speed and/or standstill detection for single- or three-phase motors by monitoring either external proximity sensors mounted on a rotating element of the motor or load, the frequency of the motor power signal or the remanence voltage (back EMF) of the motor signal.
New Dold UH6932 speed monitor relay modules have 2 PNP or NPN sensor inputs and 2 N.O. positively driven and 2 semiconductor monitoring outputs.
New Dold UH6937 frequency monitoring relay modules require no external sensors and provide 2 N.O. positively driven and 2 semiconductor outputs for monitoring.
The new safety speed relay modules start at $380.00 and have a 1-year warranty.
Go HERE for more information