High-Speed I/O and Communications Expansion Modules for the BRX Micro PLC System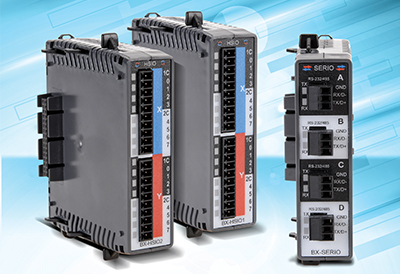 April 25, 2019
AutomationDirect has added high-speed I/O modules and a serial communications expansion module to its BRX Micro PLC product line. BRX expansion modules add discrete I/O, analog I/O and now high-speed I/O and communications functions as needed to expand machine and process control applications. BRX expansion modules easily snap onto the side of any BRX Micro PLC Unit (MPU).
Two High-Speed (HSIO) discrete I/O modules ($189.00 each) are available with (8) 12-24 VDC sink/source inputs and either (8) 12-24 VDC sink outputs or (8) 12-24 VDC source outputs. These BX-HSIO modules are capable of up to 250kHz high-speed input/output signals.
The BX-SERIO serial communications module provides an additional four isolated RS-232/RS-485 serial ports. Supported protocols include Do-more! Protocol, Modbus RTU (Master/Slave), K-Sequence, ASCII (In/Out) and DMX512. Data rates are 1200 to 115,200 bps. The BX-SERIO serial communications module is $159.00.
Go HERE for more information