Proax Technologies Laval Location Open House
May 4th, 2023 @ 15h00 – 20h00 – 1925 R. John-Molson, Laval, QC H7T 0R3
May 1, 2023
For over 60 years, Proax Technologies has been by your side for every major milestone in your automation projects, both small and large. Your unwavering support motivates them to continually strive towards excellence while staying true to their mission – WeAutomate!

They are excited to announce that their Laval branch has upgraded to a larger and more modern 37,000 ft2 building on John-Molson Street to better serve you. Mark your calendars for May 4th to join them for their Open House event, where you can meet the Proax team and explore their impressive new office space. Additionally, they have partnered with their core vendors to bring you a series of exciting and interactive demonstrations.
Get ready to discover several new features and interactive stations that will inspire your upcoming projects.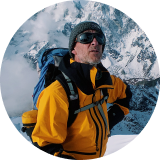 Guest Speaker
Gabriel Filippi
Speaker and great adventurer will captivate you and above all motivate you with breathtaking stories and testimonies.
Register here
Related Story
Proax Technologies is proud to announce that they are celebrating 60 years of serving the automation market! Industrial Automation has become an essential part of all manufacturing and Proax is well positioned to enable all industries to drive sustainable business growth through automation.