Motor & Drive Systems Virtual Conference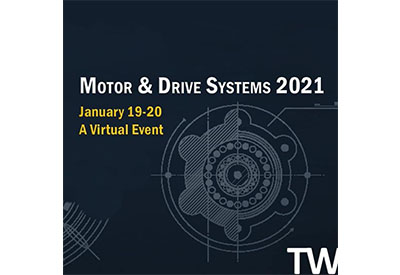 August 11, 2020
Due to safety and travel considerations regarding COVID-19, the 18th annual Motor & Drive Systems conference has been turned into a virtual event. Attendees will be able to view live-streamed presentations and ask questions in real time, participate in 1×1 meetings, and visit feature-rich virtual booths.
Motor & Drive Systems are currently accepting presentation, workshop, and panel abstracts. Being held January 19th-20th, the 2021 event will explore the important topics impacting motor and drive systems including design consideration, emerging technologies, intelligent motion control systems, energy efficiency, safety issues, power modules, simulation and testing.
Call for Presentations and Workshops Deadline is September 3, 2020
The conference provides an excellent forum for speakers to discuss case studies, ROI, market conditions and end-user requirements that are driving innovation, capabilities and features, application trends and performance improvements. Attendees include top executives, technical managers and engineering professionals from original equipment manufacturers, system developers and integrators, dealers and component providers.
Speaking slots are not tied to sponsorships; conference fees are waived.
Topics include:
Energy Efficiency
Smart Manufacturing/ Industry 4.0
Building Smart Motion Control Systems
Power Quality & Analytics
Motor Design Analysis and Optimization
Motor Fault and Diagnosis
Magnetic Materials
Drive System Retrofitting
Servo Systems and Robotics
Learn more here.