JMP Solutions Named One of Canada's Top 50 Best Workplaces: Seven Years in a Row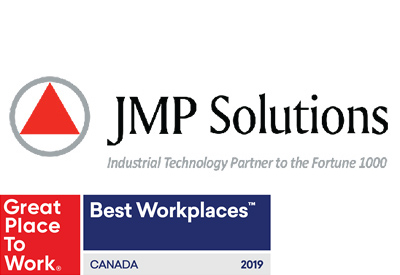 July 3, 2019
JMP Solutions is being recognized as one of this year's Best Workplaces™ in Canada. This list, and related stories, appeared in a Special National Report on Friday April 26, 2019 in The Globe and Mail.
"It's a true honour to be recognized by the Great Place to Work® Institute for a seventh year in a row," said Scott Shawyer, President and CEO of JMP Solutions. "The Best Workplaces™ award pays tribute to each and every person at JMP. Our team prides itself on living our values internally and externally with every relationship we hold and project we complete."
JMP has been committed to providing a workplace where employees can thrive, grow and truly enjoy what they do for more than 30 years. One of the company's core values is Relationships – enhancing previous ones and building quality, long term new ones. Year over year, JMP focuses on enhancing team culture, celebrating achievements and building a workplace where employees are respected, motivated and appreciated.
The 2019 Best Workplaces™ in Canada list is compiled by the Great Place to Work® Institute. The competition process is based on two criteria: two-thirds of the total score comes from confidential employee survey results and the remaining one-third comes from an in-depth review of the organization's culture. This offers a rigorous representation of the organization from an employee perspective, and an overall portrait of the workplace culture. Together, they provide crucial data relative to five trust-building dimensions: credibility, respect, fairness, pride, and camaraderie.
This year's list received over 400 registrations and over 80,000 employees participated in the 2019 "Best Workplaces™ in Canada" survey, rolling out to impact over 300,000 Canadian employees.
Go HERE for more information on Great Place to Work